Israel struggles to avert FIFA ban vote as Palestinians protest outside congess venue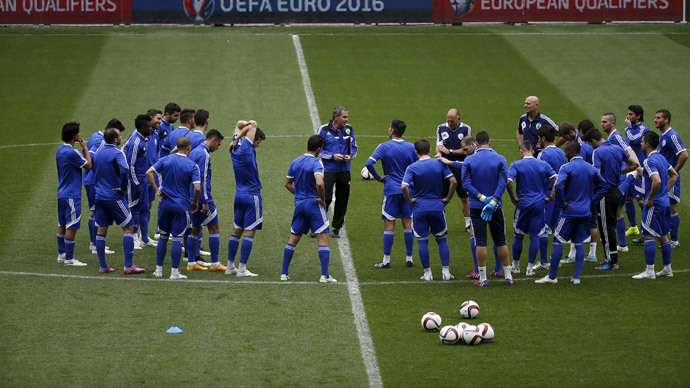 Palestinian protesters have interrupted the FIFA congress, as Israel faces a vote on its suspension from the organization. The vote is set to be held Friday at the request of Palestinians, who complain about restrictions on training and competition.
Two female protesters interrupted FIFA president Sepp Blatter's opening address. They waved red cards at the organization's representatives, chanting "Israel out!" before being removed from the hall by security guards.
Meanwhile, a group of around 150 pro-Palestinian demonstrators gathered to chant outside the venue before the congress began. The meeting is being held at Zurich's Hallenstadion.
Waving Palestinian flags, the demonstrators called for Israel's suspension. They held signs stating "Fair play for Palestine, suspend Israel from FIFA" and "Boycott apartheid made in Israel."
The Israeli Foreign Ministry has been working hard to either prevent the vote on the country's suspension from FIFA, or at least garner enough support to make sure the measure is not passed.
The series of arrests at the international organization has already led to Israeli diplomats questioning the organization's credibility, in an apparent effort to derail the vote. Israel has been accusing Qatar of paying other member states to support Palestinians in their bid to exclude the Israeli national teams from the league.
Vocal pro-Palestinian supporters outside 65th conference want #Israel suspended from #FIFA, chanting '#FreePalestine' pic.twitter.com/sP6PzJOPXo

— Harry Fear (@harryfear) May 28, 2015
The Palestine Football Association (PFA), a FIFA member since 1998, is calling for Israeli exclusion, claiming that Palestinian players are prevented from freely crossing the border between Israel and Palestinian territories, which hampers normal training and competition.
In order for the bid to be passed, the 209-member-strong association has to show support with two thirds of delegates' votes. Both sides, Israel and Palestine, however, likely regard the vote as more political, and estimate the chances for the bid's acceptation as not being high.
READ MORE: FIFA's corruption scandal: Behind the scenes
However, Israel still aims to prevent the whole vote. Last week, the topic was raised during a meeting between Prime Minister Benjamin Netanyahu and FIFA President Blatter, who opposed the vote as it would bring politics into sports.
Meanwhile within a framework of a whole "diplomatic campaign," the Israeli Foreign Ministry sent ambassadors and diplomats to counter the measure.
"We have reached nearly 70 percent of FIFA's members, but of course not those from Muslim countries, with which we have no relations," a Foreign Ministry official said, according to Ynetnews website.
"We have received very good assurances from countries that would oppose the Palestinian bid, but we are taking these promises with a grain of salt as there is always a concern that they will vote as per the directives of the regional confederations."
This week FIFA faced a wave of arrests of its senior officials, including two vice-presidents, on allegations of corruption, instigated by the US. Its chief Sepp Blatter is also under investigation, and on Friday his presidency is set to be challenged by Prince Ali bin al-Hussein of Jordan, who garnered much support from the West in his bid to unseat Blatter.
READ MORE: Putin: FIFA-linked arrests are US attempt to thwart Blatter re-election
Israeli delegates were meeting with FIFA officials on Thursday night in order to try and draft a list of concessions Tel Aviv is ready to make to avoid the vote. According to Haaretz source, as a "compromise" Israel reportedly offered to issue special travel documents for Palestinian footballers and coaches, ease restrictions on the construction of sports facilities, ease tax burden on sports equipment and arrange monthly meetings to resolve outstanding issues.
FIFA would need Rajoub's consent to cancel the vote, and the Palestine football chief is reportedly ready to accept the deal, but only if FIFA in its turn calls on the UN to rule on the status of football teams based in Israeli settlements in the West Bank. This could result in the expulsion of five Israeli teams from FIFA, since the UN considers the territory to be illegally occupied by Israel.
"Negotiations are still going on but they are very complicated," a top FIFA official told AFP earlier this week. "There may not be a solution until the final hours."
Rajoub meanwhile said that "everything is possible and we are open to every scenario".