​'Defeat for humanity': Senior Vatican official slams Irish gay marriage vote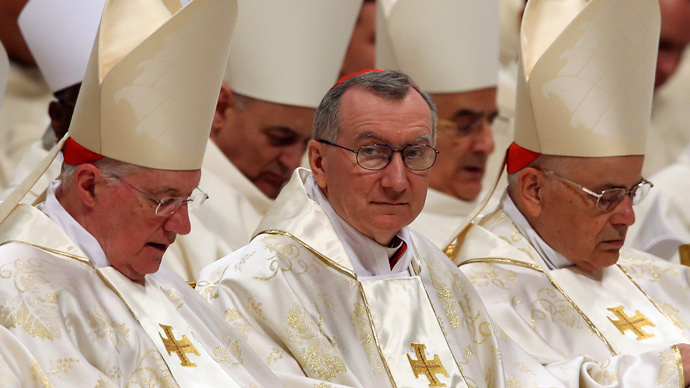 The popular vote which legalized same-sex marriages in Ireland is a "defeat for humanity," the Vatican's secretary of state said, adding the Catholic Church needs to improve the ways it preaches its holy message.
"Not a defeat for Christian principles, it was a defeat for humanity…I was very saddened by this result," Cardinal Pietro Parolintold reporters, as cited by Vatican Radio.
The Vatican secretary of state urged something had to be done to counter this referendum decision.
"The Church must take account of this reality, but in the sense of reinforcing its commitment to evangelization," he said.
READ MORE: Ireland becomes first country to approve gay marriage in referendum
On Saturday, Ireland became the first nation to legalize same-sex marriages via a referendum. The 'Yes' vote was 62.1 percent, with 37.9 percent saying 'No', or 1,201,607 votes to 734,300.
The Irish Catholic Church hierarchy campaigned for a 'No' vote, saying marriage can only involve a man and woman. Many older and rural voters agreed with the clergy.
However, on Saturday, David Quinn, of the Catholic think tank the Iona Institute, tweeted: "Congratulations to the Yes side. Well done."
YES!!! #irelandreferendum#IrelandSaidYes#marriageequality#sheramaghttps://t.co/UMLTs8JYsP

— Viva Bianca (@VivaBianca) May 24, 2015
Following the referendum, Dublin Archbishop Diarmuid Martin said the Church "have to stop and have a reality check, not move into denial of the realities," reported Irish RTE radio.
READ MORE: Ultra-conservative Catholics hit out at possible Vatican plans to welcome gays
The Catholic Church condemns homosexual acts, but it recognizes gay people could play a role within the Church.
That's pretty green. (Green=Yes, Red=No) #IrelandVoteYes#MarRef#VoteYes#irelandreferendumpic.twitter.com/81yn2QMUh2

— Louis Alexander Doré (@LouisAlexDore) May 23, 2015
The Vatican policy towards homosexuals has become more conciliatory since Pope Francis was ordained. In 2013, he said: "If a person is gay and seeks God and has goodwill, who am I to judge?"
"The problem is not having this orientation. We must be brothers. The problem is lobbying by this orientation, or lobbies of greedy people, political lobbies, Masonic lobbies, so many lobbies. This is the worst problem," he added.
You can share this story on social media: