Ultra-conservative Catholics hit out at possible Vatican plans to welcome gays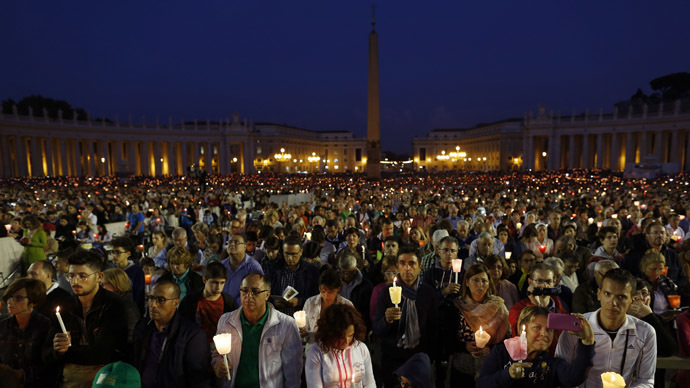 Catholic conservatives have reacted furiously to a Vatican document that advocates a possible shift towards more tolerance to homosexuals. They want to defend traditional values such as marriage and family and not recognize same-sex marriages.
The Vatican says that the document is still a "work in progress," which wants to try and integrate more homosexuals and divorcees into the Church fold. They said that a final version of the document would be issued, following a meeting of around 200 bishops, which will conclude on Sunday.
Synod groups work to fine tune document on family life §RV http://t.co/3Q3uuzpQiD

— Vatican - news (@news_va_en) October 15, 2014
However, conservatives within the Catholic Church have accused liberals of trying to "railroad the assembly" and that their views do not reflect the general consensus within the Vatican.
One of its fiercest critics was Cardinal Raymond Burke from the United States. The ultra-conservative stated, "While the document purports to report only the discussion which took place among the synod fathers, it, in fact, advances positions which many synod fathers do not accept," he told the Catholic World.
He added that "A great number of the synod fathers found it objectionable," and said he would ask Pope Francis to deliver a defining statement, which would defend traditional family values and reject further integration of homosexuals into the Church's sphere.
On Monday, Cardinal Peter Erdo of Hungary delivered an interim report, which stated that homosexuals had "gifts and qualities to offer" while he even went as far as saying that the Catholic Church would eventually recognize same-sex relationships.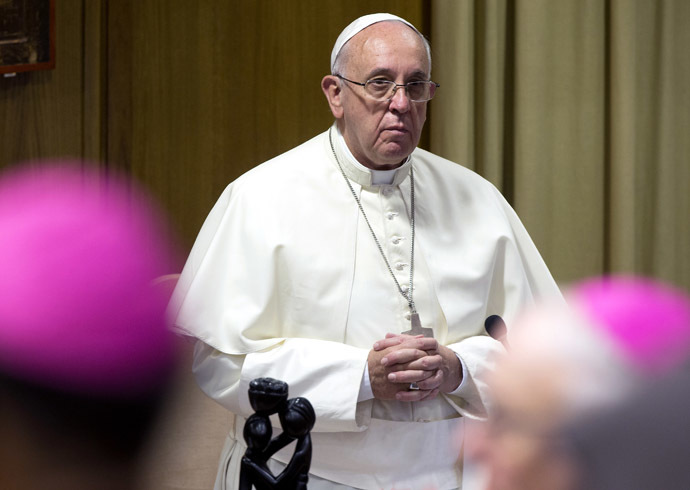 Echoing Cardinal Burke's thoughts, Cardinal Wilfrid Fox Napier of South Africa stated that, "It was not a true message."
"The message has gone out that this is what the synod is saying, that this is what the Catholic Church is saying ... Whatever we say hereafter will seem like we're doing damage control," Napier added, which was reported by Reuters.
Since Pope Francis replaced his predecessor, Pope Benedict, he has looked to be far more compassionate towards homosexuals. In a speech last year, he stated, "If a person is gay and seeks God and has goodwill, who am I to judge?" However, the document, which was released on Monday, shows that the Church still condemns homosexual acts; however, it recognizes that gays could play a role within the Church.
The text added that "Homosexuals have gifts and qualities to offer the Christian community: are we capable of welcoming these people, guaranteeing to them a further space in our communities? Often they wish to encounter a Church that offers them a welcoming home," said the document, which is known by its Latin name 'relatio'.
Vatican considers 'welcoming gifts and qualities of gays' http://t.co/9U3fqph52Ypic.twitter.com/x5HjCXeMCh

— RT (@RT_com) October 13, 2014
"Are our communities capable of proving that, accepting and valuing their sexual orientation, without compromising Catholic doctrine on the family and matrimony?" it added.
Francis DeBernardo, executive director of the US lesbian and gay pressure group, New Ways Ministry, said he was pleased at the Vatican's tentative shift saying, "It's not just a change of tone. Never before as the church talked about lesbians and gays having 'gifts' to offer. Never before has the church accepted that their sexual orientation has something positive to offer."
He added, "What is also significant and hopeful is what is not said… there is no vicious condemnation of them, as in previous hierarchical statements. We don't see the gloom and doom and apocalyptic horror that Pope John Paul II and Pope Benedict XVI and their followers have foretold because of the advent of same-gender marriages," as reported by the Independent.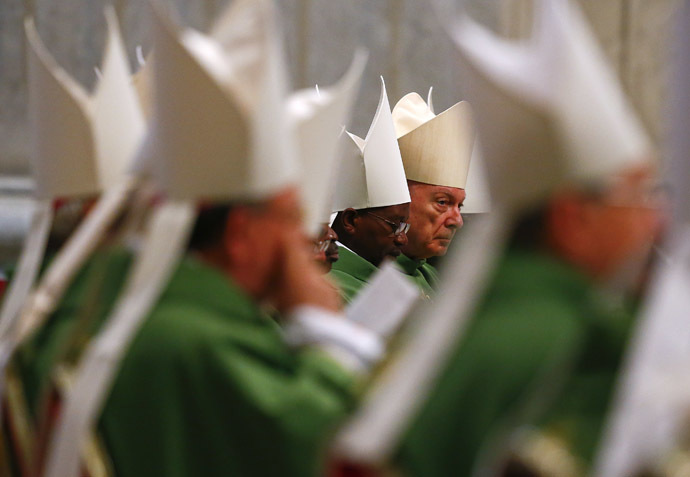 Vatican expert John Thavis who wrote the book 'The Vatican Diaries,' stated that the text was, "an earthquake" in the Church's attitude to gays.
"The document clearly reflects Pope Francis' desire to adopt a more merciful pastoral approach on marriage and family issues," he said.
The text also potentially opens doors for other groups who had been sidelined by the Catholic Church's rigid policies. Heterosexual couples who were married in civil services or living together could become further integrated. The Vatican is not openly supportive of untraditional unions; they have mentioned the "positive aspects" of these unions. Previously, the Catholic Church had labeled such unions "living in sin."
You can share this story on social media: