​Rape more frequent in Sweden than India – Women's minister Gandhi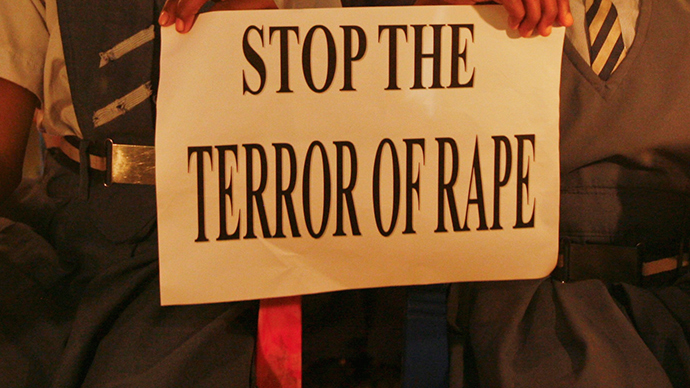 India's women's minister says that Sweden has a worse rape problem than her home country. It comes as India struggles to rebuild its reputation following the 2012 gang-rape of a woman on a Delhi bus, which cast the nation into the international spotlight.
"We have four rapes per 100,000 women, while Sweden has more than 130," Maneka Gandhi said in an interview with Swedish television channel SVT on Sunday, as cited by The Local. She claimed that the incidence of rape in India was among the lowest in the world.
READ MORE: Delhi to make 33% of cops female to help tackle violence against women in Indian capital
Sexual assaults in India were placed in the spotlight in 2012, when a 23-year-old medical student died after being gang-raped on a bus in Delhi. The BBC released a documentary about the rape in March, titled "India's Daughter." The film was banned in India.
Huge protests erupted in India following the 2012 incident, prompting the government to pass a law doubling prison terms for rapists to 20 years. Repeat rape offenders and those whose victims are left in a "vegetative state" now face the death penalty.
According to Gandhi, nationwide demonstrations following the bus gang-rape have also led to greater awareness among the public, and prompted more women to report sexual assaults. However, women's rights advocates in India argue that a large number of rapes still go unreported in the country.
Though Gandhi did not mention the source of her statistics, a 2013 report from the United Nations Office on Drugs and Crime stated that India reported 2.7 rapes per 100,000 inhabitants that year, while Sweden reported 58.9 rapes per 100,000 residents.
READ MORE: 'India should protect humans, not just cows': Cardinal after elderly nun gang-rape
Meanwhile, Gatestone Institute research published in February stated that Sweden has now the second-highest incidence of rape worldwide, surpassed only by Lesotho in Southern Africa, which has 91.6 rapes per 100,000 inhabitants. The research referred to Sweden as the "rape capital of the West."
Gandhi's comments come just one week after the death of a Mumbai nurse who was left in a vegetative state for 42 years after being assaulted in 1973.
In March, an elderly nun at a Christian missionary school in India's Nadia district was gang-raped by up to eight male attackers as she tried to prevent them from robbing the building.
Gandhi is visiting Sweden to inaugurate Namaste Stockholm, a festival organized by the Indian Embassy to showcase the country as a culture and tourism destination. She will also take part in a discussion on gender diversity.
You can share this story on social media: