Elderly nun gang-raped at Christian missionary school in India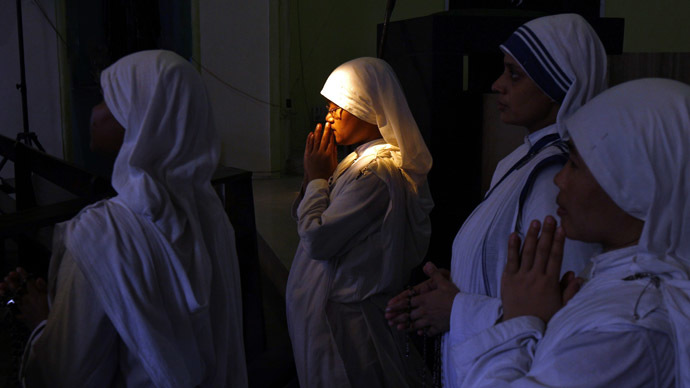 An elderly nun at a Christian missionary school in India was gang-raped by up to eight male attackers as she tried to prevent them from robbing the building at night.
The woman, who is reportedly 71 or 72 years old, was attacked by a group of raiders who broke into the Convent of Jesus and Mary School in Nadia district, located 80 kilometers northeast of Kolkata, the capital of West Bengal state. According to differing reports, seven or eight men tied up the school's security guards and broke into the building. They entered the nun's room at around 01:00 on Saturday.
When the senior sister tried to stop them, the men took her into one of the rooms. They raped the woman, causing severe injuries.
The nun was taken to hospital in serious condition in the morning.
"A preliminary investigation has revealed that a nun at the school was gagged and gang-raped," Police Inspector General Anuj Sharma told AFP.
The raiders destroyed the property and took some cash, a mobile phone, a laptop, and a camera belonging to the school, before running away.
READ MORE: Brutal lynching of rape suspect in India prompts suspensions, judicial probe
Police have launched a search operation to find the attackers. Sharma said on Saturday that "two people have so far been arrested."
According to the Times of India, the country's state minister for urban affairs, Firhad Hakim, called the attack "heinous". He also called for the death penalty for anyone found guilty in the case.
Angry students, parents and teachers barricaded railroad tracks and a nearby highway for hours, demanding police take the case seriously and arrest those responsible.
West Bengal Chief Minister Mamta Banerjee strongly condemned the attack, calling it "horrific."
READ MORE: Indian man facing death penalty for gang rape says victim 'should be silent and allow the rape'
The shocking incident is the latest crime to draw attention to the rise of sexual violence in India. The country has seen a growing number of rapes over the past several years.
According to the National Crime Records Bureau, rape figures increased by more than a quarter in just one year, to more than 33,700 sex crimes between 2012 and 2013. In Delhi alone, the number of rapes almost doubled, to more than 1,440 incidents in the same period. In 2014, the number of reported rapes in the city exceeded 2,060.
In December 2012, the nation was shocked by the gang rape of a 23-year-old woman aboard a moving bus in New Delhi, which led to her death.
Public outcry forced the country's government to pass a law doubling prison terms for rapists to 20 years. The legislation also classifies voyeurism, stalking, and the trafficking of women as crimes. It also stipulates that officers who refuse to open cases when they receive complaints are committing crimes.
You can share this story on social media: