U-turn? Netanyahu suspends Israeli bus ban for Palestinians within hours
Published time: 20 May, 2015 09:12
Edited time: 20 May, 2015 16:49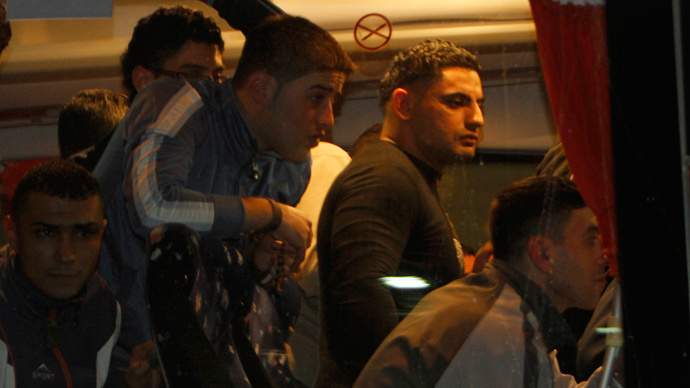 Israeli Prime Minister Benjamin Netanyahu has suspended a ban on Palestinians from the West Bank taking Israeli bus routes to return home, just hours after the plan was approved by his defense minister.
The new regulations restricted Palestinian commuters to using the same crossings for entering and leaving Israel.
"Under a three-month pilot project, Palestinians who work in Israel will, starting Wednesday, need to return home by the same crossings without taking buses used by [Israeli] residents" of the occupied West Bank, an Israeli Defense Ministry official told AFP earlier Wednesday.
Thousands of Palestinians take the bus to go to work in Israel from the occupied West Bank. For the time being, Palestinians could enter Israeli territory through one check point and return via another one.
The new suspended plan includes just four checkpoints – at Eliyahu, Eyal, Hala and Rayhan – separated one from another by considerable distances. The new pending regulations imply that all Palestinian workers should return to their homes every day for security reasons and now cannot stay in Israel for the night.
Despite Netanyahu freezing the bus program, Defense Minister Moshe Ya'alon said Wednesday that the suspension was only temporary due to security concerns, Haaretz reported. He reiterated his support of the plan, saying that it was aimed at inspecting those entering and leaving Israel from and to the West Bank, and not to separate Jews and Palestinians.
On the other hand, President Reuven Rivlin welcomed the suspension, saying the program "could have led to an unthinkable separation between bus lines for Jews and Arabs."
"As one who loves the Land of Israel, I have nothing but regret for the discordant voices that we heard this morning, supporting the separation between Jews and Arabs on the basis of ideas that have no place being heard or said," he said Wednesday.
#Israel begins separating Palestinian bus travel in #WestBank - Diplomacy and Defense http://t.co/h2QUgliP3gpic.twitter.com/duXVHbl0JF

— Palestine Trends (@Palestinolizer) May 19, 2015
Ahead of the attempt to introduce new rules, Ya'alon told Israeli radio that the government "will draw lessons from this experience at the end of the three-month trial period."
Human rights organizations have said they plan to appeal against the new regulations to the Israeli High Court of Justice.
Israeli government plans for an Israeli bus ban on Palestinians emerged in October 2014, when Ya'alon decided Palestinians working in Israel should only be able to return home to West Bank via a single crossing and should not be allowed to ride the same buses as Jewish settlers.
Settlers have been campaigning for the ban for years.
READ MORE: Israel Apartheid? Palestinians to be banned from West Bank settlers' buses
The new rules were first set to be introduced in November, but were then postponed until January 2015, due to "bureaucratic issues at the Civil Administration," Haaretz reports.
Welcome aboard Israeli apartheid bus: Read 2014 editorial slamming W. Bank bus separation plan http://t.co/ycprPnbd6wpic.twitter.com/xeVOuneXrj

— Haaretz.com (@haaretzcom) May 20, 2015
The campaign for segregated bus rides has been conducted by the Samaria Settlers Committee for years, citing what it calls "security risks."
"You don't need to be a security expert to realize that 20 Arabs on a bus with a Jewish driver and two or three passengers and one soldier with a gun is a set-up for an attack," Ya'alon said.
"Arab travel on buses is a victory over the Jewish occupier," Haaretz cited Karnei Shomron council leader Yigal Lahav as saying, who also reportedly said that for Arabs this is "the experience of traveling with Jewish women."
The plan drew huge criticism from the human rights group as well as local opposition politicians.
The first so-called "apartheid buses" in Israel were launched in 2013, when Palestinians commuting from the West Bank were urged to board special buses. They were launched by the Transport Ministry after some Jewish settlers feared their safety was at risk.
"The decision to separate Palestinians and Jews on public transportation is an unnecessary humiliation that is a stain on the state and its citizens," Israeli opposition leader Isaac Herzog wrote on his Facebook page, the Guardian reported.
The leader of Israel's leftwing Meretz party, Zahava Gal-On, said: "This is how apartheid looks. There is no better or nicer way to put it. Separate buses for Jews and Palestinians prove that democracy and occupation cannot co-exist."