​Egypt bans all hardcore soccer groups for 'terrorism'
Published time: 16 May, 2015 18:41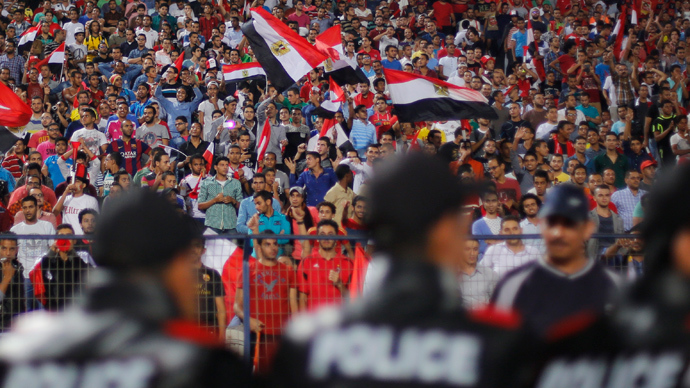 The Cairo Court for Urgent Matters has designated all organized groups of dedicated football fans – known as ultras – as terrorists, following a lawsuit from a club chairman who claimed his own supporters attempted to murder him.
READ MORE: At least 19 killed in stampede as police clash with football fans in Cairo
"Supporters will not be able to act in the name of those groups during football matches, nor will they have any voice in face of the regime, and any person acting in their name should be arrested," said Ashraf Farahat, the head of the legal team behind the lawsuit.
The case was opened last September at the behest of Mortada Mansour, who was elected as the chairman of the country's popular Zamalek SC club six months earlier.
Mansour claims that as well as attempting to shoot him and several associates last year – for which 21 people are currently on trial - members of the club's hardcore supporter group the Ultras White Knights (UWK) have thrown acid in his face, and plotted to murder a former sports minister. Mansour has also alleged that UWK is behind the burnings of buildings belonging to the national football association, and several clubs, including Zamalek itself, bringing a string of anti-UWK lawsuits to court, resulting in the arrests of dozens of leading ultras.
UWK, who have nearly 900,000 followers on Facebook alone, say the charges are trumped-up and they are being persecuted for daring to stand up to the government of Abdel Fattah al-Sisi.
The well-organized group played a key part in the toppling of former president Hosni Mubarak in 2011, and have resisted what they say is the restoration of his authoritarian regime, conducted by Sisi, an army general. The outspoken Mansour was a Mubarak loyalist, maintains close ties with the current regime, and has been roundly rejected by the UWK. In turn, he has said that "the ultras are only interested in violence."
The conflict was ratcheted up further on February 9, when at least 22 Zamalek ultras died in confrontation with security officers, when attempting to enter a league match at the Air Defence Stadium in Cairo.
UWK labeled the incident a "deliberate massacre."
But the interior ministry claims it was a provocation, and has arrested 16 UWK members, who they say were cooperating with the banned Muslim Brotherhood, to "create chaos."
The verdict of the case is expected on Monday.