At least 19 killed in stampede as police clash with football fans in Cairo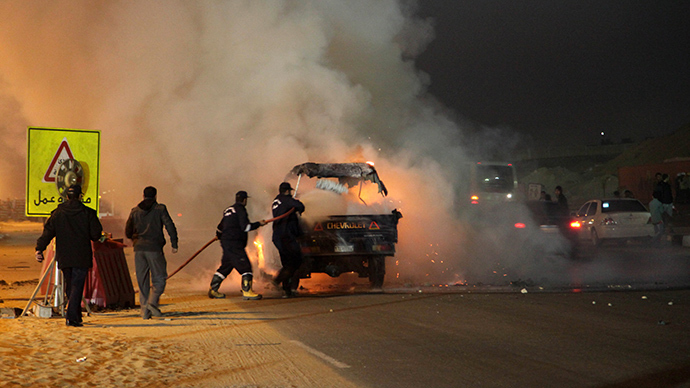 At least 19 people died in a stampede in Cairo on Sunday after police fired tear gas and clashed with a crowd of fans trying to storm the gates of a football stadium, Egyptian media reports.
The death toll, previously confirmed to be 22 by Egypt's authorities, has been growing, according to hospital reports in local media, including Ahram Online which cited medical sources. However, that figure was later revised by an interior ministry spokesman.
All of the bodies have been moved to a local Cairo morgue. Another 25 people were injured, state news agency MENA reported.
"They died of suffocation and stampede after being tear-gassed," a medical source at the Ahli Bank Hospital, which received 14 bodies, told Ahram Online.
The Egyptian government has suspended the country's Premier League football matches for an indefinite period following the tragedy. The government's statement blamed fans for failing to adhere to safety procedures and forcing their way into the Cairo stadium.
Hardcore fans of Egyptian football club Zamalek SC, known as Ultras White Knights, clashed with police in front of an army-owned stadium in northeast Cairo when they tried to attend a match without buying tickets. Police reportedly used tear gas to disperse the fans as the conflict escalated.
"The Zamalek fans tried to get in by force, and we had to prevent them from damaging public property," the Egyptian Interior Ministry said in a statement.
After a 2012 football riot at Port Said Stadium in which 72 people were killed and more than 500 were injured, the Egyptian government instated a crowd ban on domestic league games. Games were largely played behind closed doors with batches of fans occasionally being allowed in. The ban was officially lifted this week.
You can share this story on social media: