Italian kindergarten staggered after 4yo pupil performs fascist salute
Published time: 13 May, 2015 14:30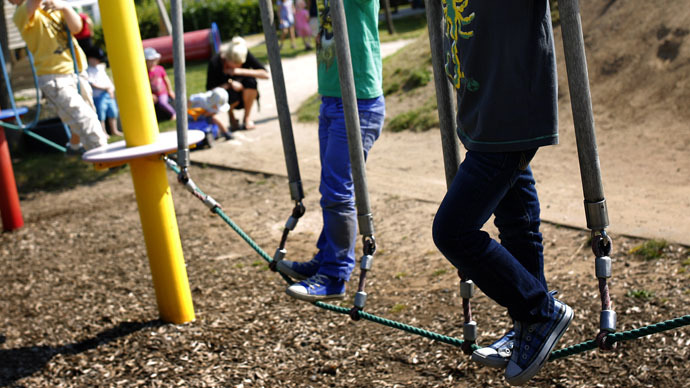 A kindergarten in northern Italy has called in the parents of a four-year-old boy who repeatedly carried out the infamous stiff-armed Fascist salute in the classroom when greeting his friends.
What added to the tensions was the fact that the kid's parents seemed not to understand what the problem was.
"When we explained the odd behavior of their son and asked for an explanation they said, 'What's wrong with it?'" a teacher told La Repubblica newspaper.
READ MORE: Can you paint Hitler? Applause! Thailand shocked by 'student core values' video
"They gave us a clear idea of what their political views were, saying they were proud to have taught their son the Fascist salute. We told them the salute was prohibited under Italian law and that the gesture was hardly suitable for a four-year-old child," the teacher added.
"What's wrong, these are our political ideals…we want to give him a strict, but at the same time natural, education," the parents allegedly replied, as quoted by La Repubblica.
Then, the boy's 30-year-old father showed a swastika tattoo on his arm.
Finally, the teachers told the parents that either the boy, referred to simply as Federico, stops his actions, or he would be excluded from the kindergarten.
READ MORE: Billboard quoting Hitler retracted by Alabama youth church group
Local authorities said they were alarmed by the incident.
"It's a story that really leaves a bad taste in the mouth," Donatella Mattesini, an MP with the ruling, center-Left Democratic Party, whose father fought as a partisan during the war, told the Local.
The school in question is situated near Lake Lomo in the country's north, where the fascist dictator Benito Mussolini and his mistress were caught and executed in April 1945.
Their bodies were driven to Milan, and hung in a petrol station, with locals coming to spit at them.
Mussolini is buried in his hometown Predappio, with his grave having turned into a shrine for Fascist supporters. Thousands keep coming yearly for the dates of his birth, death, and the 1922 March on Rome, which saw him taking control of the country.