Can you paint Hitler? Applause! Thailand shocked by 'student core values' video
Published time: 10 Dec, 2014 17:09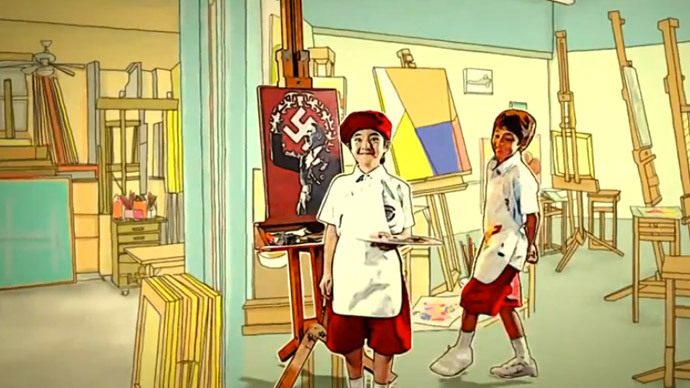 A short movie, commissioned by Thailand's government to promote "12 core values" every student should possess, included a scene with a portrait of Hitler and swastika.
The 11-minute film is a part of the "Thai Pride" series aimed at the country's students. It was commissioned by Prime Minister Prayuth Chan-ocha, who retired from his military chief's role in August after the then government was dismissed following a wave of protests.
A brief scene in the movie depicts a smiling schoolboy painting a portrait of Adolph Hitler to applause from his classmate. The video was supposed to promote the value of "learning about democracy," according to the film's author, Kulp Kaljaruek.
"I didn't think it would be an issue," Mr Kulp told the Thai Khaosod newspaper. "As for Hitler's portrait, I have seen so many people using it on T-shirts everywhere. It's even considered a fashion. It doesn't mean I agree with it, but I didn't expect it to be an issue at all."
READ MORE: 5 students detained for 'Hunger Games' salute at Thai PM
Kulp told AFP that the scene is "symbolic" as the child who is painting Hitler "is going in the wrong direction."
"But I didn't mean it [to show Hitler] in a bad way," Kulp added. "You know Hitler had quite strong power in the past, but not in a good way. So it's like he [the boy] is learning from that until he becomes a good person in the end."
The video appeared in cinemas across the country this weekend causing uproar and controversy.
"I'm speechless," wrote @chomsowhat on Thai, while another local user, @snetibutr, added: "How damning that is of TL (Thailand's) education/history teaching."
The Responsible History Education Action group said, "this is a massive failure of understanding of history by a Thai government administration that has explicitly mentioned wanting to teach history."
"We are concerned and deeply saddened that the image of Hitler and a Nazi swastika was featured in a government video meant to extol values to the Thai people," the group added.
A senior official in the prime minister's office, Panadda Diskul, said it was all merely a "misunderstanding".
"The film is good, but it has caused a slight misunderstanding in our society," Panadda told AP. "We won't stop the project, but we will replace that problematic picture with another, more proper one."
READ MORE: Hitler Superhero: Thai university apologizes for scandalous billboard
In 2013, Bangkok's Chulalongkorn University erected a billboard that showed Adolf Hitler with his arm raised in a Nazi salute. He is bizarrely surrounded by Batman, Captain America, the Incredible Hulk and Iron Man.
Thailand's education system primarily covers the history of the country and its monarchy. For example, children are required to memorize all the country's previous kings, while learning very little about the Holocaust. T-shirts with Hitler, swastikas and Nazi regalia are quite widespread in the country.