Most married women in Egypt went through genital mutilation - health minister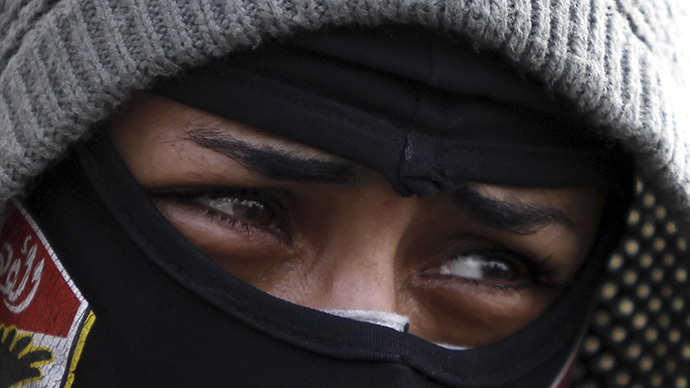 Some 92 percent of married women in Egypt underwent female genital mutilation, the country's health minister said, citing a recent study. He added that the majority of girls face this ordeal when they are only nine to 12 years old.
The results of the Egypt Demographic and Health Survey (EDHS) were announced by Health Minister Adel Adawy at a Sunday conference dedicated to the study, Egyptian media reported. The poll was carried out last year and involved women aged 15 to 49.
According to the minister, only 31 percent of the operations are carried out by doctors, with most being performed by traditional midwives and "health barbers."
The rate of female circumcision in rural places is extremely high – almost 95 percent while in urban areas it reaches 39.2 percent, the minister said.
READ MORE: FGM cases rise in England, figures 'only tip of the iceberg'
The study claimed that more than half of married women in the country are in favor of genital mutilation. Only 30 percent of women say it should be banned, the study said.
Egyptian doctor sentenced to prison after Sohair al-Bata'a,13, dies from female genital mutilation #Egypt#FGM#womenpic.twitter.com/0lDdXR52OX

— Mabel Gasca (@mabelgasca) January 26, 2015
Egypt's top Islamic authority has condemned the practice as "un-Islamic" and "barbaric." Female circumcision was banned in 2008. The offenders may be sentenced to prison (from three months to two years) or fined between 1,000 and 5,000 Egyptian pounds.
READ MORE: 60 cases of female genital mutilation discovered in Swedish school
In January, an Egyptian doctor, Raslan Fadl, was sentenced to two years in jail for performing a female genital mutilation procedure which killed a young girl. Thirteen-year-old Sohair al-Bata'a died in June 2013 following the surgery.
READ MORE: Female genital mutilation in US tripled in 25 years
Female Genital Mutilation (FGM), a traditional practice to partially or completely remove the outer sexual organs, is mainly practiced in Africa and in a few countries in the Middle East (Yemen, Kurdish communities, Saudi Arabia) and Asia.
Up to 140 million women and girls worldwide have been subjected to FGM, the World Health Organization (WHO) says.
The practice has no health benefits, while complications can include severe pain, shock, bleeding, tetanus, sepsis, urine retention, recurrent bladder and urinary tract infections, as well as infertility, increased risk of childbirth complications and newborn deaths and other problems, according to the World Health Organization.
The causes of FMG may be cultural, religious or social conventions within families and communities of certain regions. Among some peoples FGM is considered a necessary part of raising a girl properly and preparing her for marriage.
You can share this story on social media: