FGM cases rise in England, figures 'only tip of the iceberg'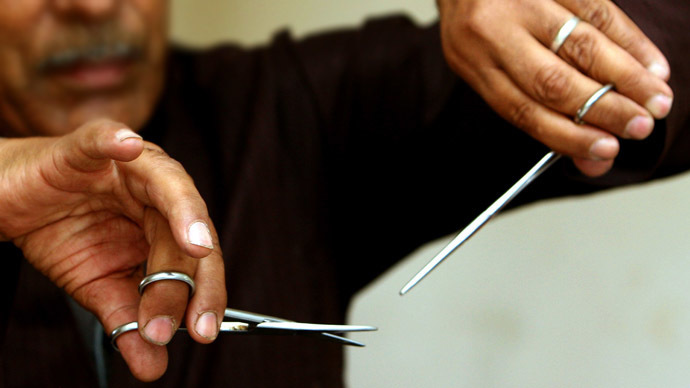 A total of 578 new cases of female genital mutilation (FGM) in England were reported in March this year alone.
From September last year to March 2015, there have been 3,963 new cases nationwide, 60 of which were victims under the age of 18, according to theHealth and Social Care Information Centre.
"Not surprisingly, as more FGM survivors access healthcare, we see a continued increase in the official figures," Mary Wandia, FGM program manager at Equality Now, told the Guardian.
"However, this number is still only the tip of the iceberg. Last year, we estimated that 137,000 women and girls live in England and Wales who have been affected by FGM. We will continue to see significant month-on-month increases as more women and girls affected by FGM access healthcare. Every month, we are getting a clearer picture of the sheer scale of the issue."
FGM, a traditional practice to partially or completely remove the outer sexual organs, has been illegal in the UK since 1985. It is mainly practiced in Africa and in a few countries in the Middle East (Yemen, Kurdish communities, Saudi Arabia) and Asia.
READ MORE: UK treats 1,700 female genital mutilation victims since April
READ MORE: Female genital mutilation in US tripled in 25 years
Diasporas of those countries living in the UK, including Somalians and Malians, are believed to continue performing FGM. Some 170,000 women and girls are currently thought to be living with FGM in Britain. A further 20,000 girls under the age of 15 are thought to be at risk of the practice.
Up to 140 million women and girls worldwide have been subjected to FGM, the World Health Organization (WHO) says.
More than half the women of the African diaspora living in the UK interviewed for a study said they see FGM as abuse. The Southern Domestic Abuse Service and the African Women's Forum asked 55 women of African communities, including Guinea, Somalia and Gambia, about their views of the practice, in which 60 percent said they were against it.
Research consultant Dr Tamsin Bradley said: "The level of trauma associated with a woman's own experience of the practice is really significant in shaping her attitude to FGM. A large number of the women interviewed opposed FGM because they were acutely aware of the long-term health complications that women suffer.
"This research is a small study so we can't draw wide conclusions concerning the whole of the African diaspora communities in Portsmouth and Southampton but it's an important step forward, which we hope will contribute to eradicating the practice of FGM."
Marie Costa, chairwoman of the African Women's Forum, added: "We must help stop the practice of FGM, which ostracizes families who do not conform to it, through support for those who have been mutilated and education of all community groups who culturally practice FGM."
One of the 40 percent who support FGM, a Gambian woman who went through the procedure when she was five years old, said: "It was very traumatic; I can still recall it now. I do not blame my mother but just accept that it is part of my tradition. It is very painful and problematic for women, but if I have a daughter I would put her through it because it is part of our cultural identity."
You can share this story on social media: