Hard tackle: Polish rugby fans threaten to kill Ukrainian nationalists, return Lvov to Poland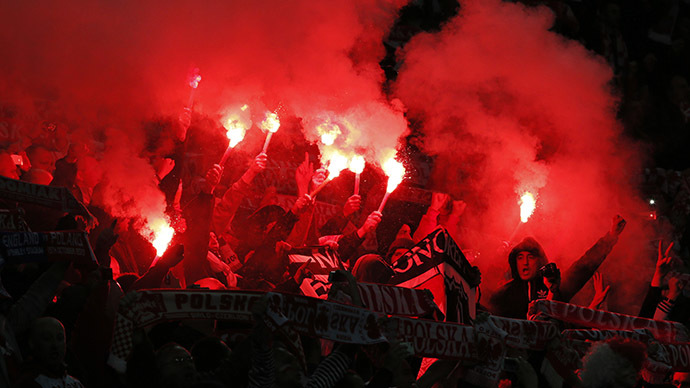 Ukraine's rugby team received a frosty welcome in neighboring Poland where local fans put up a banner, threatening to kill Ukrainian nationalists and demanding the city of Lvov to be returned to Poland.
"Take back Lvov. Kill Banderovites [followers of Ukrainian nationalist icon, Stepan Bandera]," the banner, written in both Polish and Ukrainian, read.
The vice mayor of the city of Lublin, which hosted the match, told the police to remove the banner.
"The banner contained ultra-rights slogans and called for violence. We had to intervene," Krzysztof Komorski told Gazeta Wyborcza newspaper.
RUGBY: POLSKA - Ukraina 09.05.2015 ''Lwów odzyskamy, banderowców ubijemy'' pic.twitter.com/SL0iryHGUF

— Shark (@WSH1906) May 10, 2015
However, the police refused to fulfil the official's order due to the crowed in the stands being too aggressive.
The banner was eventually removed by five cheerleaders, with the girls saying that the fans swore at them, but didn't attack.
Meanwhile, the Ukrainian team responded to the unfriendly crowd via sporting means, winning the match with 20-17 score.
READ MORE: Polish general 'calls back support' of Ukraine over nationalist glorification
The eastern Ukrainian city of Lvov was part of Poland until late 18th century and also after World War I.
It was transferred under the jurisdiction of the Soviet Republic of Ukraine only in 1946 after the end of World War II.
The Banderovites are the followers of Ukrainian nationalist icon, Stepan Bandera, who is now treated as "a freedom fighter" and a hero by the Kiev authorities.
Bandera's Ukrainian Insurgent Army (UPA) collaborated with the Nazi during WWII and is blamed by Warsaw for slaughtering around 130,000 Poles.
Last October, the Polish football fans displayed a similar banner demanding the return of Lvov and Vilnius, now Lithuania, during an away Europa League game between Metalist Kharkov and Legia Warsaw.
You can share this story on social media: