Polish general 'calls back support' of Ukraine over nationalist glorification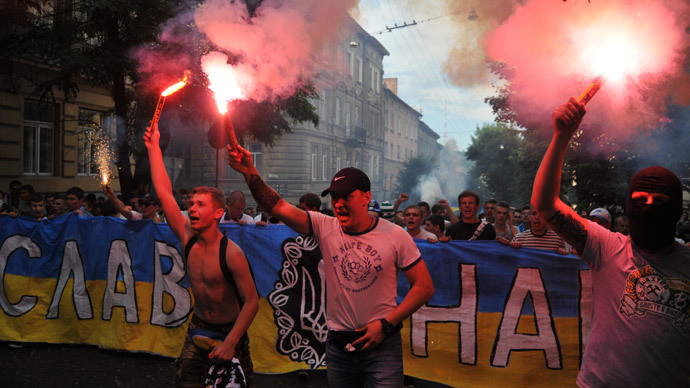 Retired General Waldemar Skrzypczak, an influential figure in the Polish military, says he withdraws all words of support for Ukraine due to the country's sliding towards nationalism. Earlier he advocated supplying heavy weapons to Kiev.
The angry U-turn in attitudes towards the Ukrainian government was published on Friday in the Gazeta Prawna newspaper. Skrzypczak said he is outraged with a law that the Ukrainian parliament passed hours after Polish President Bronisław Komorowski spoke before the MPs to express support for Ukraine.
The law gave benefits to all people who fought for Ukraine's independence throughput history. Those include fighters of the Ukrainian Insurgent Army, or UPA, which was responsible for mass killings of Polish citizens in 1943-44. The tragic events are known as Volhynian slaughter in Poland.
"I realized that Ukraine has no concern for Polish people. I am talking about what happened in Volhynia, the slaughter of 100,000 Poles by the UPA," the ex-general said.
READ MORE: Ukraine bans Communism & Nazism, celebrates UPA nationalists as 'freedom fighters'
"The UPA murdered my uncle. They nailed him with forks to a barn door. For what I know, he was dying maybe for three days. Their savagery was beyond imagination. And Nazi Germany didn't invent the things the Ukrainians did to us. They hacked people with axes," he added.
Skrzypczak said some polish politicians are living in illusion and would not criticize Ukraine to avoid sparking controversy.
"I wonder on what foundation is Ukrainian President Poroshenko building the future of Ukraine. Bloodthirsty nationalism? It's frightening. I have long been telling that Ukrainians must get rid of nationalism, because otherwise cooperation with Poland would be very difficult if possible at all," he said.
As early as January, Skrzypczak was calling on the Polish government to send some armor from its reserves to Ukraine to help its government 'fight against Russia.'
Gen. Skrzypczak: Wycofuję się ze wszystkiego, co powiedziałem na temat Ukrainy, oni nie liczą się z Polską pic.twitter.com/s6OVqfXhQD

— Kryśka (@krystynawitkow2) April 17, 2015
The former general, who was overall commander of Polish land troops in the past and is currently deputy defense minister responsible for defense procurement, is a known advocate of having a strong Polish army and being on guard for possible Russian aggression.
He is also famous for being vocal about things he considers important. In 2009, he retired from the Polish army amid a scandal, when he accused the government of failing to properly supply troops deployed to Afghanistan. He said defense ministry officials' knowledge of war was limited to movies and that their incompetence led to the death of a Polish officer, who died in a firefight with insurgents.
The general's Ukraine-skeptic comments are a rare phenomenon in Poland, which has been one of the most vocal supporters of the new government in Kiev since the armed coup in February last year.
You can share this story on social media: