May SNOWFALL hits Chelyabinsk in Russia, thousands left without power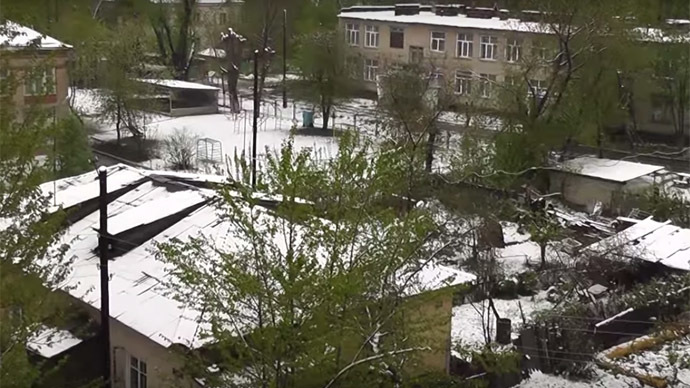 Chelyabinsk, the Russian city that made headlines with its meteorite, triple sun and blue snow, has been hit by a new natural phenomenon. The city in the Southern Urals marked May 9 with a sudden snowfall so thick it left 39,000 people without power.
The wintry weather, which started on May 9, hasn't discouraged social media users who were preparing to mark 70 years since victory over Nazi Germany in WWII. They marked the words "May 9" in the snow, and drew pictures of St. George's ribbons on their snowy cars.
9 мая!!! Crazy weather...#челябинск #9мая #70летпобеды #unbelievable #chelyabinsk #snowman

A photo posted by Anyuta Osintseva (@anutosi) on May 10, 2015 at 1:43am PDT
"I love winter in the beginning of May," gzbender user wrote on Instagram. The city residents even revived their favorite New Year tradition – building a "stern Chelyabinsk snowman."
Я просто оставлю это здесь - для памяти!:) #Челябинск#9мая #капризыпогодыpic.twitter.com/FjTvCTOGSB

— JuliaBaggNBC6 (@JuliaBaggNBC6) May 10, 2015
The snow also damaged power lines in the city and left about 39,000 people without electricity, regional energy officials said.
Челябинск не удивляет pic.twitter.com/AatgRVK6BH

— F E L 4 I 2 X 0 (@Vcegotovo) May 10, 2015
READ MORE: Chelyabinsk mystery zone: Blue snow, three Suns, meteorite explosion (VIDEOS)
Chelyabinsk is no stranger to strange natural occurrences.
On February 15, 2013, Chelyabinsk made global headlines after a blazing meteor flashed across the sky. Its impact in the atmosphere had the power of over 20 Hiroshima explosions.
A photo posted by Anna (@annboldova) on May 10, 2015 at 1:46am PDT
READ MORE: Chelyabinsk meteorite 'shrinks by 20kg' as skyfall anniversary approaches
Luckily, the explosion occurred about 30 to 40km over the city and the meteor didn't make an unwelcome crash landing in the middle of the city. There were no serious casualties, but about 1,600 people received minor injuries, mostly from fragments of shattered glass.
Все нормально,это #Челябинск #снег #май

A photo posted by @brutal.night on May 10, 2015 at 1:29am PDT
The biggest fragment of the meteorite weighed in at around 570 kilograms and was found in Lake Chebarkul, 90 km from Chelyabinsk.
This February city residents were awed by a new phenomenon, a triple sun, a rare optical illusion produced by ice crystals in the winter air.
Люблю зиму в начале мая! #chelly #Челябинск #Chelyabinsk #chellynow

A photo posted by Данил (@gzbender) on May 10, 2015 at 1:17am PDT
READ MORE: 3 suns in the sky: Chelyabinsk witnesses rare halo effect (PHOTOS, VIDEO)
Also in February, another strange event was the appearance of smurf-colored snowflakes covering the city's streets. It turned out to be that a local factory making dye for Easter eggs had a spill.
READ MORE: Mystery blue snow fallout in Chelyabinsk alarms residents
#челябинск#суровыйчелябинскийснеговик#10мая

A photo posted by @ninoplanetyanin on May 10, 2015 at 12:58am PDT
.
#ДеньПобеды #9мая #Челябинск #снег #весна #chelly #Chelcity #Chelyabinskphoto

A photo posted by Михаил Пушкарев (@angel111lv) on May 10, 2015 at 12:58am PDT
You can share this story on social media: