Chelyabinsk meteorite 'shrinks by 20kg' as skyfall anniversary approaches
Published time: 13 Feb, 2014 19:47
Edited time: 13 Feb, 2014 19:47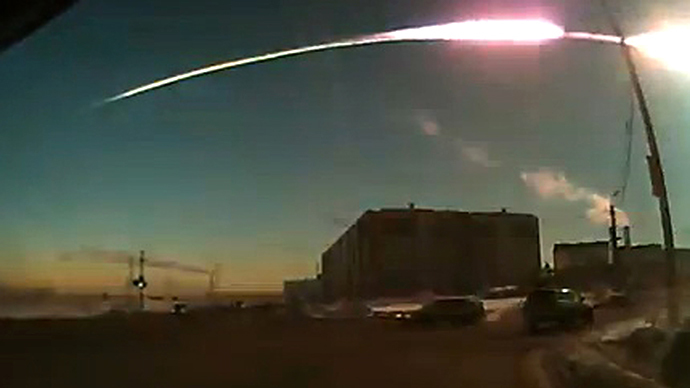 Chelyabinsk is to celebrate one year since a meteorite hit the Siberian city with a scientific conference, a memorial stone and fireworks at the site of its landing. Meanwhile, the "birthday boy" from space has lost 20 kg in weight and got a bit rusty.
The "Happy Birthday, meteorite!" festival is to be held on the frozen shores of lake Chebarkul, where the 17-meter celestial rock smashed on February 15, 2013, after exploding and breaking into pieces above Chelyabinsk. The day will be marked with a scientific conference on causes and the aftermath of the meteorite fall – and unveiling a memorial marble stone to honor the rare space event.

The fall of the huge stray asteroid, whose spectacular fiery descent was filmed by numerous Russian dashcams, attracted scores of scientists and raised questions about chances the incident could repeat with somewhat more disastrous consequences.

The big rock was eventually put on display at the Chelyabinsk museum of local lore. There it dried out a bit, losing some 20 kilograms as water evaporated, according to the museum's deputy scientific director Nikolay Antipin.

According to Antipin, the chunk also suffered a bit of corrosion, changing its looks. Due to the rust, some visitors are "wondering if it is the same meteorite that was shown on TV," he told Itar-Tass.

The museum itself has been inundated by visitors, with huge queues of those wishing to have a look at the space body.

"I had never seen anything like that before. Some people hadn't really known the museum exists. Thanks to the meteorite they were able to see all our displays," Antipin said.

Regional authorities, however, are hoping the tourism boom is not over yet, as foreign visitors are showing steady interest in excursions to meteorite sites unlike the locals. The latter have apparently shown more interest in collecting some of the many pieces of the space rock scattered in the area for selling or keeping – a fact that is lamented by the scientists, who want to study in detail the impact and trajectory of the meteorite's fall.

But, according to Chelyabinsk Region official, a special 'Meteorite Day' "has a right to exist" in the local calendar, as the consequences of the space event could have been much worse. Even as it exploded miles above the ground, the impact of the blast shattered over four thousand windows, with pieces of glass and debris injuring more than 1,100 people.

"Just imagine, 20 Hiroshimas exploded above us, with debris scattering across the area of 8 municipalities like shrapnel, but none of them hit a single person or animal. Such a lucky turn of events can rightly be a cause for celebration," local minister of culture Aleksey Betechtin has said.

The meteorite has already become part of another festivity – the 2014 Winter Games. Some of the award ceremonies for Sochi Olympic champions of February 15 will contain a surprise gift – a piece of the Chelyabinsk meteorite attached to their medals.