Interpol issues alert over deadly dieting pills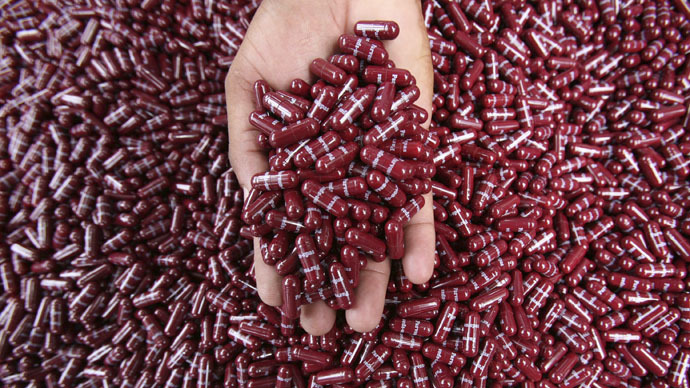 Interpol has launched a global alert over potentially lethal diet pills, which has been linked to the death of a British student. Police in 190 countries have been issued with the Orange notice over tablets containing the compound 2.4-Dinitrophenol (DNP).
The global police organization made the alert over DNP, which can "literally cook" someone from the inside, after the death of 21 year-old Eloise Parry, from Shropshire in the UK in April. A French man is also in a serious condition after having taken the substance.
Interpol collaborated with the World Anti-Doping Agency (WADA), who analyzed the drug after it had been seized in Australia. Meanwhile, following a request by French health authorities, Interpol declared DNP-based drugs an "imminent threat" to anyone who may have taken it around the world.
#INTERPOL warning issued over 2.4-dinitrophenol (DNP) an illicit and potentially lethal drug used as a #dieting and #bodybuilding aid

— INTERPOL (@INTERPOL_HQ) May 4, 2015
"Although usually sold in yellow powder or capsule form, DNP is also available as a cream. Besides the intrinsic dangers of DNP, the risks associated with its use are magnified by illegal manufacturing conditions," Interpol said in a statement on its website.
"In addition to being produced in clandestine laboratories with no hygiene regulations, without specialist manufacturing knowledge, the producers also expose consumers to an increased chance of overdose," Interpol added.
Parry purchased the pills online. It is believed she accidently took an overdose of the substances. Local police are currently conducting an investigation into her death and have warned of the dangers of DNP.
Vomiting, headaches, irregular heartbeat, coma, death. Just some DNP side-effects http://t.co/ChMi0VYEVW#DNPKillspic.twitter.com/ruNBKNUrLv

— FoodStandardsAgency (@foodgov) May 5, 2015
DNP was used in France during the First World War to help to manufacture explosives. However, it was also found to increase the metabolism and cause weight loss among those working in the armament factories.
It was later used as a weight loss stimulant, but was taken out of service in the 1930s and banned in the US after being found to be responsible for several deaths.
"We are appreciative that Interpol has issued this global warning on DNP. This is a perfect example of how crucial it is that law enforcement and anti-doping organizations continue to forge closer ties so that dangerous, and potentially fatal, substances such as DNP do not reach the hands of athletes," said WADA Director General, David Howman.
The use of DNP has been on the rise since 2007, according to a report published last year.
Eloise Parry's mother on the death of her daughter after taking diet pills – video http://t.co/CCY3zLHt0Hpic.twitter.com/uJruJ9HUxU

— Mav Rahul (@MavRahul) May 5, 2015
"DNP is a so called 'fat burning' product used by bodybuilders and as a weight loss aid - it prevents energy being stored as fat, but instead this is released as heat," the senior author of the study, Dr. Simon Thomas, told Reuters. "The effect is an increase in body temperature and this can damage the body's cells, e.g. in muscle, kidney and brain."
Meanwhile, Dr. Edward Boyer from the University of Massachusetts Medical School, who was not involved in the study, agreed that DNP was a dangerous chemical that should not be used as medication.
"There's a world of chemical reactions that go on inside your body and every time a chemical reaction occurs it releases heat," he told Reuters. "Your body takes some of that heat and normally turns it back into other chemical reactions which lead to molecules that you can use for additional energy - it's just a way of being efficient."
You can share this story on social media: