'Capacity crunch': Internet could collapse by 2023, researchers warn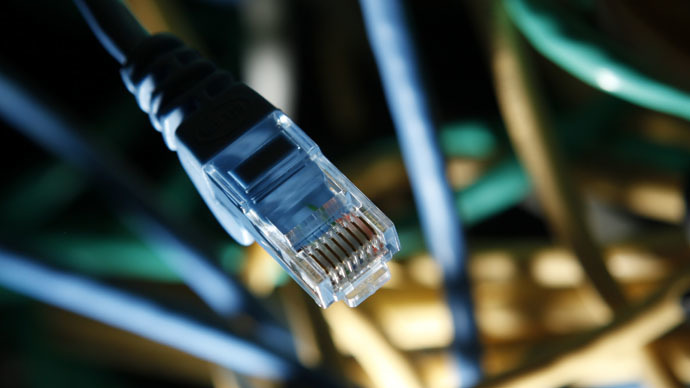 The internet could face an imminent 'capacity crunch' as soon as in eight years, should it fail to provide faster data, UK scientists say. The cables and fiber optics that deliver the data to users will have reached their limit by 2023.
Optical cables are transparent strands the thickness of a human hair: the data is transformed into light, and is sent down the fiber, and then turns back into information.
"We are starting to reach the point in the research lab where we can't get any more data into a single optical fiber. The deployment to market is about six to eight years behind the research lab - so within eight years that will be it, we can't get any more data in," Professor Andrew Ellis, of Aston University in Birmingham, told the Daily Mail.
"Demand is increasingly catching up. It is growing again and again, and it is harder and harder to keep ahead. Unless we come forward with really radical ideas, we are going to see costs dramatically increase," he added.
READ MORE: Vandals cause chaos as Arizona goes internet-free for 15 hours
Internet companies could set up additional cables, but that would see price tags for web usage soar.
Researchers warn we could end up with an internet that switches on and off all the time, or be forced to pay far more than we do now.
"That is a completely different business model. I think a conversation is needed with the British public as to whether or not they are prepared to switch that business model in exchange for more capacity," Ellis warned.
READ MORE: Breakthrough fiberoptic cable 2,500X faster than fastest internet
Plus, there is another issue: that of electricity needed to cope with the skyrocketing demand.
"That is quite a huge problem. If we have multiple fibers to keep up, we are going to run out of energy in about 15 years," Professor Ellis said.
Some 16 percent of the power in the UK is consumed via the internet already, and the amount is doubling every four years. Globally, it is responsible for about two percent of power usage.
There is a bright side to the gloomy predictions, though: over the past decade, engineers have kept well ahead of demand, increasing internet speed by 50 times.
Plus, some experts are certain a solution will be found: Professor Andrew Lord, head of optical research at BT and a visiting professor at Essex University, said that keeping the data in large 'server farms' rather than transferring it could be the answer.
You can share this story on social media: