Western diet causes colon cancer risk to skyrocket – new study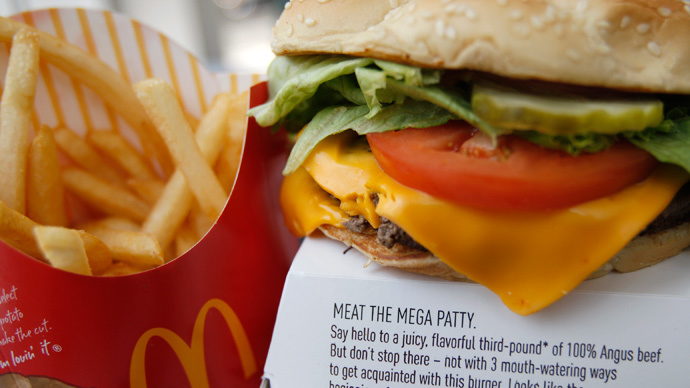 A new study has revealed that eating a western diet, rich in animal proteins and fats, greatly increases the risk of colon cancer, but the issue can be resolved by switching to a high-fiber African diet.
The study involved 20 black American volunteers who swapped their diet for an African one for a fortnight. The result was a shocking drop in colon cancer risk.
In contrast, a group of 20 African study participants, who switched from an African to an American diet, found their risk of contracting colon cancer quickly rising over the same period of time.
"Animal protein and fat intake was two to three times higher in Americans, whereas carbohydrate and fiber, chiefly in the form of resistant starch, were higher in Africans," the researchers wrote in the Nature Communications journal.
READ MORE: FDA approves GMO apples, potatoes that don't bruise or brown as being safe to eat
The volunteers had their colons examined before and after the diet swap. Scientists also measured biological markers that indicate colon cancer risk and studied samples of bacteria taken from the colons.
Researchers said that they were most surprised by how fast and significant the change occurred, not by the fact that it had taken place.
"We can't definitively tell from these measurements that the change in their diet would have led to more cancer in the African group or less in the American group, but there is good evidence from other studies that the changes we observed are signs of cancer risk," said the study co-author Jeremy Nicholson from Imperial College London, as cited by Reuters.
The main reason for the changes was the way in which microbione, a bacteria in the bowel, responded and changed its metabolism to adapt to the new diet.
READ MORE: Cancer cases in UK 40% lifestyle-related - study
An African diet's key component is fiber, since most of the food is plant-based, while the US diet contains a lot of processed products, fat and animal proteins.
Fiber can be found in fruit, vegetables and cereals, and scientists believe fiber helps waste products to pass through the bowel.
Colon cancer is the second biggest cause of cancer deaths in men and women in the US: 136,000 new cases appear yearly, with 50,000 dying from the disease, according to American Cancer Society estimates.
In South Africa colon cancer is much less widespread, with only five out of 100,000 people affected.
Worldwide, colon cancer is the fourth deadliest form of the disease, killing over 600,000 people a year.
The study was carried out by researchers from Imperial College and the University of Pittsburgh, who worked with 20 US-based and 20 South Africa-based volunteers.
You can share this story on social media: