Autoburn: Fire engulfs Austrian super-truck hauling giant cargo (VIDEO)
Published time: 27 Apr, 2015 12:51
Edited time: 27 Apr, 2015 14:26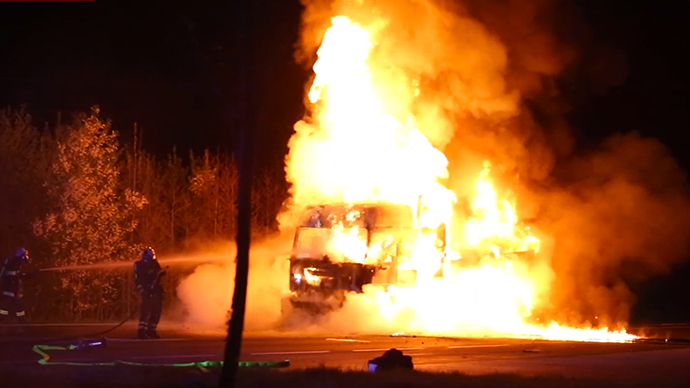 A heavy-duty truck burst into flames and exploded several times on an autobahn in central Austria while hauling a 60-meter long, 350-ton blast furnace.
The media's interest had already been piqued when Austrian manufacturers announced that they intended to transport the multimillion-euro piece of equipment used for processing fertilizer from its factory in Steinhaus to nearby Linz on Sunday night. From there it was to be loaded onto a giant barge before being transported down the Danube, through the Black Sea, and up the Volga to the Russian city of Samara.
However, the cameras covering the event got more than they bargained for, when just minutes after the convoy had departed – with one truck pulling the cargo, and another pushing it – the lead truck became engulfed in flames.
READ MORE: Fatal blast at fireworks shop in Central Russian city of Oryol (VIDEOS)
"Everything happened very quickly," Erwin Scheinmayr, the driver of the second truck, told ORF, a national news portal.
Fire brigades immediately arrived at the scene, dousing what was reportedly one of the country's most souped-up power trucks in water, as it burned down to its carcass.
The driver of the truck, who escaped unharmed, said the accident had been caused by a faulty turbocharger, which had allowed oil to drip onto the engine, sparking the fire.
Fortunately, the trailer, which contained a fuel and an oil tank, did not catch fire and remains undamaged. The manufacturers say they will make a second attempt to deliver the furnace to its destination soon.