Fatal blast at fireworks shop in Central Russian city of Oryol (VIDEOS)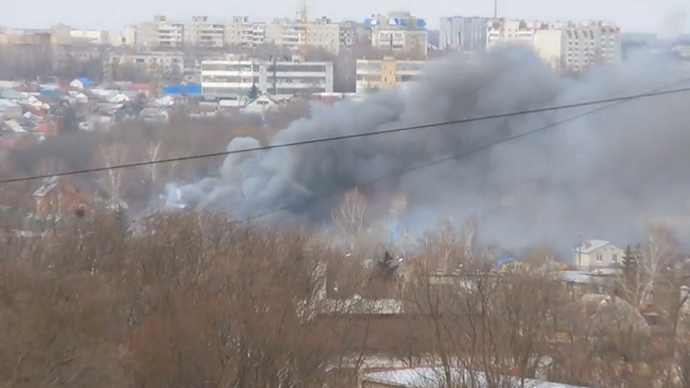 At least one person was killed and several injured in a series of blasts in the city of Oryol, Central Russia, authorities said. A fireworks warehouse reportedly exploded not far from the local school and kindergarten.
The blast occurred at 2:30pm local time (11:30 GMT) at the local warehouse, which belongs to a private owner, Oryol police authorities said.
There are conflicting reports about the number of dead and injured. Police announced two dead and eight injured, adding that the deceased were employees at the warehouse. The Center for Disaster Medicine said that 14 people, including six children, were injured in the incident.
The warehouse belonged to MAKS pyrotechnic company which was to organize the fireworks at the V-Day in the city, the press secretary of regional Governor Stanislav Rybakov said, adding that the affected warehouse may not have been certified as safe.
При взрыве и пожаре в магазине пиротехники в #Орел пострадали 10 человек http://t.co/emgbx9IH9D #пожар#чпpic.twitter.com/nRLO8DplJb

— МПК01 (@Mpk_01) April 23, 2015
"At first there was one explosion, it was followed by a series of smaller ones," Elena Verizhnikova, a witness, told Komsomolskaya Pravda newspaper. The blast was so powerful that it knocked out the windows in local buildings. Children were evacuated from nearby schools and kindergartens.
Local journalists report that it's impossible to breathe, small explosions can be heard throughout the area and everything is covered in dust. Emergency services have arrived at the scene of the explosions. The fire has spread to three other buildings, a source told RIA Novosti.
#VSCOcam по предварительной информации - взорвался склад фейерверков на Энгельса, вид из моего окна. страшно. #Орел #konubri
A source in emergency services told Interfax six people including three minors, were injured in the blasts. Bo 105 multi-purpose helicopters may be used to deliver the injured to hospitals, a source in emergency services told TASS.
At least 100 firefighters are involved in the operation, the press service of the Central Regional center told TASS.
Oryol, with a population of about 300,000 people is 360km south-southwest of Moscow.
Загорелся второй жилой дом, под угрозой еще несколько домов #аст #флагман #охрана #безопасность #забота #защита #надежность #спокойствие #комфорт #отдых #чоп #полиция #дом #коттедж #дача #квартира #гараж #орел #орёл #orel #oryol
.
Все зоволокло дымом и грохочет не переставая. Склад? Питарды? #орел #пожар