Millions worldwide mark 100th anniversary of Armenian genocide (PHOTO, VIDEO)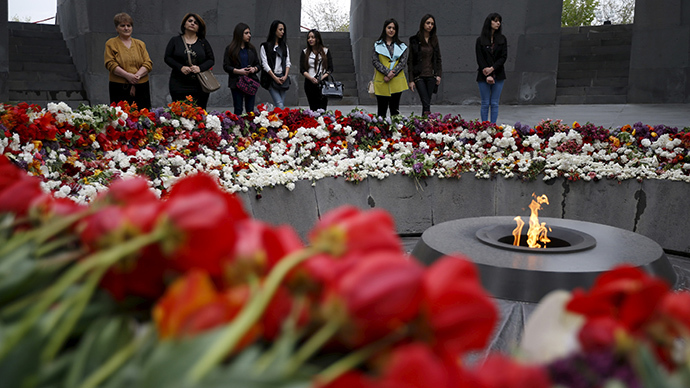 Armenians from around the world have been taking part in public memorial services, to commemorate the 1915 massacre of up to 1.5 million of their ancestors at the hands of the Ottoman Turks.
READ MORE: Armenia marks 100 years since genocide by Ottoman Turks LIVE UPDATES
In Armenia's capital Yerevan, President Serzh Sargsyan laid a lone yellow rose at a wreath representing a giant forget-me-not flower.
"I am grateful to all those who are here to once again confirm your commitment to human values, to say that nothing is forgotten, that after 100 years we remember," he told an audience of international dignitaries, who gathered in the former Soviet state.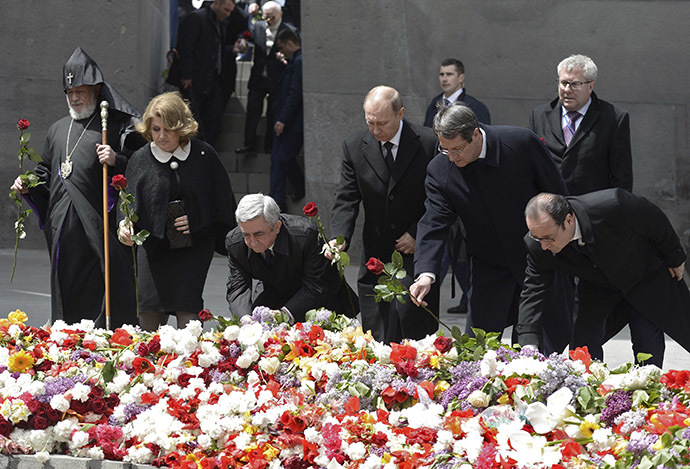 He was followed by Russian President Vladimir Putin and his French counterpart Francois Hollande, as well as dozens of other officials.
"There is no and cannot be any justification for mass murder of people," said Putin, who has not shied away from calling the events of 1915 to 1922 genocide, despite vocal objections against the term from Turkey.
READ MORE: Armenia, Turkey still at odds a century after 1915 massacre
"Important words have already been said in Turkey, but others are still expected so that shared grief can become shared destiny," echoed Hollande.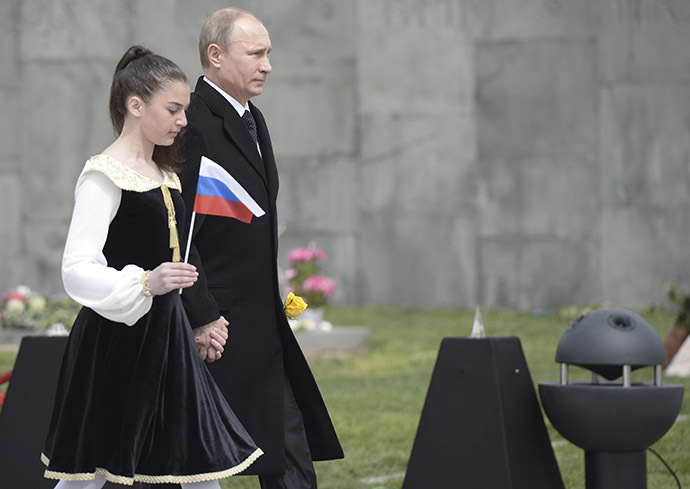 From April 1915 most of the Ottoman Empire's Armenians were displaced, deported or placed in concentration camps, ostensibly for rebelling and siding with the Russians in World War I. Turkey admits that many were mistreated, but says that the exact numbers of those killed have been exaggerated and there was no systematic policy to eliminate the Armenian minority.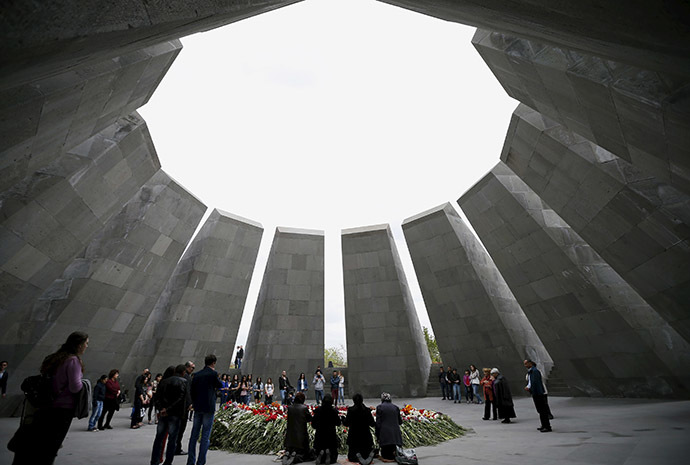 The Armenian diaspora numbers up to seven million people, and large ceremonies were held in several major cities around the globe.
White doves were released into the sky following a service at an Armenian Orthodox church in Moscow. The Russian national census of 2010 confirmed that 1.1 million Armenians were living in Russia.
In Paris, the Eiffel Tower goes dark to commemorate the #ArmenianGenocide 100yrs later. pic.twitter.com/fZ4yHbgSNm via @armembfrance

— reported.ly (@reportedly) April 24, 2015
In France, the lights at the Eiffel Tower were turned off through the night, to mourn the deaths of the Armenians who perished.
Rome, the Colosseum goes dark in memory of #ArmenianGenocide victims. pic.twitter.com/wIMnyKM3EQ

— EAFJD (@eafjd) April 24, 2015
Thousands in Los Angeles walked from the ethnic neighborhood of Little Armenia to the Turkish consulate, holding placards with messages "We demand justice" and "Turkey must pay." US President Barack Obama promised to recognize the genocide prior to his election in 2008, but has since avoided the explicit term, to placate key NATO ally Turkey.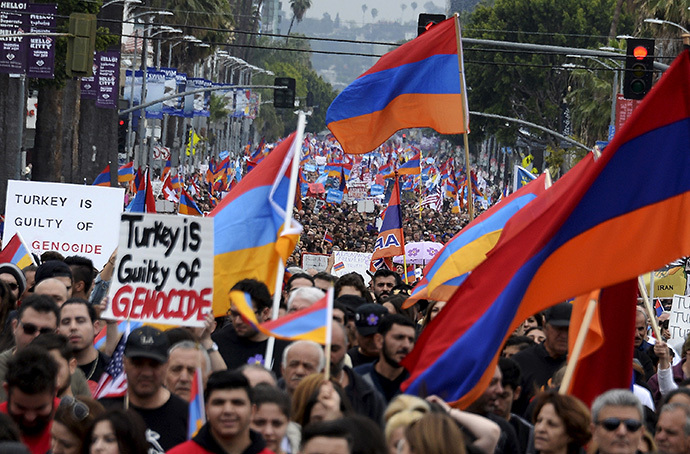 Many schools were shut in Beirut, Lebanon, as a procession of tens of thousands of people, representing a small but vocal minority in the multi-faith country, marched through the streets.
Changed our logo today to honor 100th anniversary of #ArmenianGenocidehttp://t.co/r63BCircrRpic.twitter.com/6NJLKyoNrv

— reddit (@reddit) April 24, 2015
In Syria, a country that continues to enjoy a difficult relationship with present-day Turkey, masses were held in Damascus and Aleppo.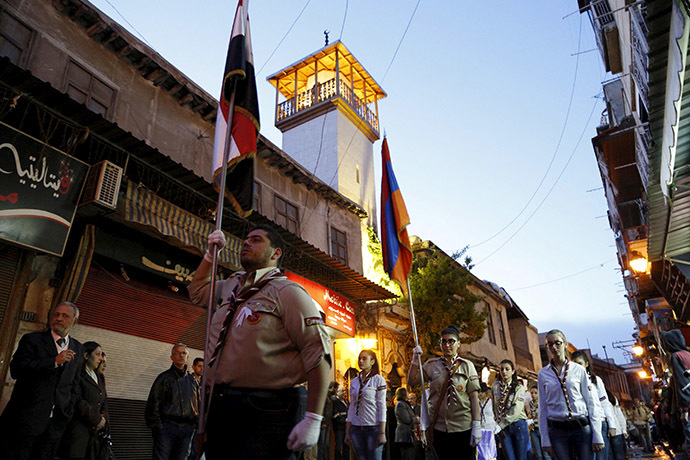 In Germany, the parliament discussed passing an official motion recognizing the genocide, with speaker Norbert Lammert saying "we can through our own experiences encourage others to confront their history, even when it hurts." A similar motion has already been adopted by the European Parliament.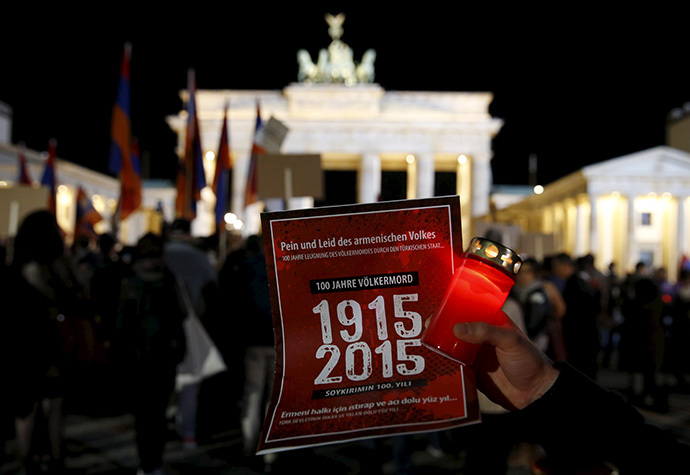 Other notable ceremonies were held in Iran, Jerusalem and Jordan.
Iranian Armenians march to mark #ArmenianGenocide, gather in front of Turkish embassy in Tehran to protest pic.twitter.com/zU1JAlglH1

— Sobhan Hassanvand (@Hassanvand) April 24, 2015
.#video of #ArmenianGenocide procession Old City of #Jerusalem#Israelnews#BREAKING#HappeningNow#news#Armenianpic.twitter.com/5NASC5IJtl

— Seth Frantzman (@sfrantzman) April 24, 2015
Centenary of the #ArmenianGenocide in Qamishli #TwitterKurds@mutludc@Evin_Jiyan21@EzidiPress@NinBazipic.twitter.com/1z9965Ker2

— Delil souleiman (@Delilsouleman) April 24, 2015
You can share this story on social media: