Armenia marks 100 years since genocide by Ottoman Turks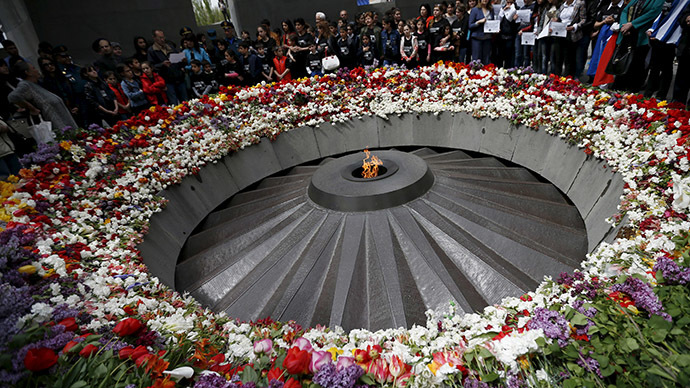 Armenians worldwide are marking an anniversary of an Ottoman genocide of up to 1.5 million of their people a century ago. Commemoration services are expected to draw millions in Armenia's capital, Yerevan, and abroad.
24 April 2015

17:05 GMT

Turkey said that it condemned the fact that Russian President Vladimir Putin referred to the 1915 massacre as genocide.

"We reject and condemn... (Putin's) characterisation of 1915 events as genocide despite all our warnings and calls," the foreign ministry said, as cited by AFP.

14:08 GMT

#Marseille marche #ArmenianGenocide avec plus de 5000personnes venues rappeler l'importance de la mémoire pic.twitter.com/yNSQ1ofCDA

— FM LAMBERT (@fm_lambert) April 24, 2015

13:19 GMT

Crowds have gathered In front of the Armenian Genocide Memorial Complex. People are placing flowers at the memorial.