NATO 'Tornado' military drills in Estonia to use laser training system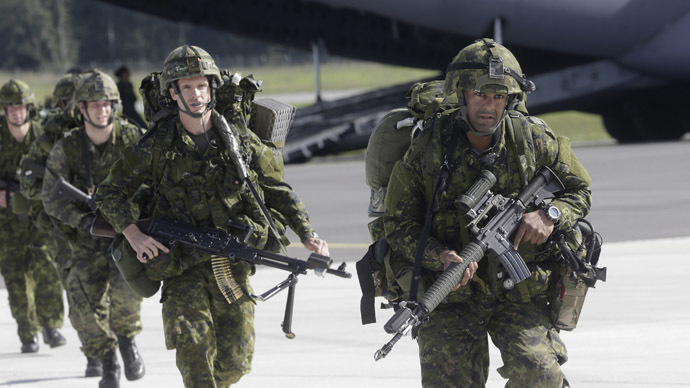 The US Army has joined Estonian soldiers in NATO 'Tornado' drills just before the largest training in Estonia's history, the Siil war games. A laser training system will be used for simulating actual battle.
"On Monday, nearly 2,000 soldiers of the First Infantry Brigade of Estonian Defense Forces, as well as divisions of US paratroopers, will begin five-day Tornado drills, which will demonstrate the level of their readiness for larger Siil [Hedgehog] military exercises," the General Staff of the country's Defense Forces said in a statement.
The Siil war games involving up to 13,000 soldiers will be held in early May.
The MILES (Multiple Integrated Laser Engagement System) system will be used during the Tornado exercise for training purposes, with different versions of MILES systems available to US and international militaries. The system uses lasers and blank cartridges to simulate actual battle. Soldiers carry small laser receivers, placed over their outfits, which detect when the soldier has been illuminated by a firearm's laser. Each laser transmitter meanwhile mimics the effective range of the weapon on which it is used.
Readiness now: Baltic Battalion prepares for NATO Response Force | Video: http://t.co/6HaS1gtynApic.twitter.com/utkfWKrLvP

— US Mission to NATO (@USNATO) 20 апреля 2015
The presence of US soldiers in the Baltic region is a part of the military operation Atlantic Resolve, a demonstration of US commitment to NATO members across Eastern Europe through international training and security cooperation.
READ MORE: American instructors to train Ukrainian troops this spring – US general

NATO has been building up its military presence along Russia's western border in the wake of the conflict in southeastern Ukraine. Moscow has repeatedly warned that NATO's growing expansion towards Russian borders could only escalate tensions and destabilize regional security.
Tmrw #NATO starts largest air exer in #Baltic air space, improving quick reaction alert functions #BalticAir policing pic.twitter.com/SRtXXWBwuy

— Latvian Delegation (@LV_NATO) 20 апреля 2015
"The Alliance exerts pressure on the Russian Federation and the deployment of additional military capabilities along our borders is nothing but an attempt to assist military pressure on Russia," Russia's permanent representative to NATO, Alexander Grushko, said in February.
READ MORE: NATO activity near Russian borders increased by 80% – General Staff

The Russian General Staff said on Thursday there was a sharp increase in the intensity of NATO troops training near the borders of Russia last year, with a clear anti-Russian orientation of these activities. According to Lieutenant General Andrey Kartapolov, NATO's operational and combat training activities grew by 80 percent in 2014.
Up to 1000 soldiers from Latvia, Estonia & Lithuania prepare to join #NATO Response Force http://t.co/qf3iuklk3Qpic.twitter.com/v0kHiKE7IO

— US Mission to NATO (@USNATO) 16 апреля 2015
"During this period, NATO created a grouping of its member states' forces in the Baltic States, consisting of over 10,000 troops, about 1,500 armored vehicles, 80 planes and helicopters and 50 warships," Kartapolov stated, adding that strategic bombers from the US Air Force were used to perform strategic tasks during those exercises.
READ MORE: 'We're not interested in a fair fight' – US army commander urges NATO to confront Russia

He also said the US plans to supply its Eastern European allies with JASSM-ER long-range aviation cruise missiles, which will enable NATO warplanes to hit targets 1,300 kilometers inside Russian territory.

The head of the Main Operation Directorate of the General Staff has warned that in the case of a military conflict, critical facilities on the territory of "almost the entire European part of Russia will be vulnerable to NATO's air attack, with the flight time of the missiles reduced by half."
You can share this story on social media: