NATO activity near Russian borders increased by 80% – General Staff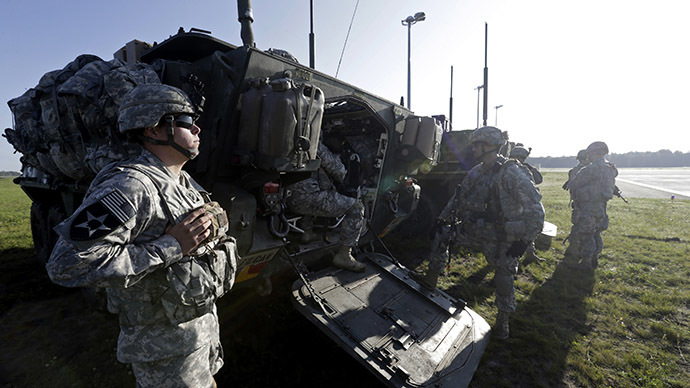 There was a sharp increase the intensity of the training of NATO troops near the borders of Russia last year, Russian General Staff said.
"In 2014, the intensity of NATO's operational and combat training activities has grown by 80 percent," said Lieutenant General Andrey Kartapolov, head of the Main Operation Directorate of General Staff.
The leadership of the North Atlantic Treaty Organization made no effort to hide the clear anti-Russian orientation of these activities, he added.
"During this period, NATO created a grouping of its member states' forces in the Baltic States, consisting of over 10,000 troops, about 1,500 armored vehicles, 80 planes and helicopters and 50 warships," Kartapolov said during the IV Moscow Conference on International Security.
READ MORE: Iran urges India, China & Russia to counter NATO missile system
According to the Lieutenant General, strategic bombers from the US Air Force were used to perform strategic tasks during those exercises.
He also said that the US plans to supply its Eastern European allies with JASSM-ER long-range aviation cruise missiles, which will enable NATO warplanes to hit targets 1,300 kilometers inside the Russian territory.
"In the case of a military conflict, critical facilities on the territory of almost the entire European part of Russia will be vulnerable to NATO's air attack, with the flight time of the missiles reduced by half," Kartapolov warned.
The General Staff official also spoke about increased intelligence activity by NATO in the Black Sea.
He said that US Global Hawk drones were spotted in Ukrainian air space in March, with the UAVs increasing "the depth of reconnaissance on the territory of Russia by 250-300 kilometers."
Since Russia's reunion with Crimea and the start of the military conflict in eastern Ukraine last spring, NATO forces have stepped up military exercises along the Russian border – in the Baltic States and Eastern Europe.
Russia responded with an increased number of flights of its Russian long-range 'Bear' or Tu-95 bombers in the vicinity of the airspace of NATO members and large-scale drills on own territory.
READ MORE: US 'crossed all imaginable lines' forcing Ukraine to do its bidding – Russian Def. Min.
Despite failing to provide any proof, the West blames Russia for masterminding the Ukrainian unrest and supporting the rebels in country's eastern Donetsk and Lugansk Regions.
Earlier at the conference, Russia's defense minister, Sergey Shoigu, said "the US and its closest allies have crossed all imaginable lines" in an effort to draw Ukraine into its orbit.
According to the minister, the Ukrainian conflict, in which over 6,000 people have already been killed, is part of a larger Western plan to undermine Russia, the minister stated.
Washington and its allies are trying to alienate Russia's neighbors through a combination of misrepresenting Moscow's stance as aggressive and offering investments and lucrative military programs to their governments, he said.
You can share this story on social media: