​US military instructors deployed to Ukraine to train local forces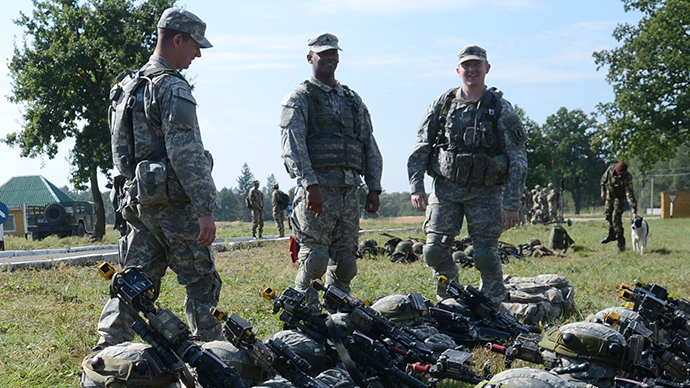 Paratroopers of the US 173rd Airborne Brigade, based in Vicenza, Italy, have arrived in western Ukraine to provide training for Ukrainian government troops.
The announcement came on US Ambassador to Ukraine Geoffrey Pyatt's twitter account. The diplomat posted pictures of the US paratroopers marching through the airport in the western Ukrainian city of Lvov.
MT @USAGBavaria 173rd Airborne troops arrive in Ukraine for Fearless Guardian http://t.co/mBVwQFRCobpic.twitter.com/GxufdbiB1m

— Geoffrey Pyatt (@GeoffPyatt) April 17, 2015
Pyatt has not given the exact number of the servicemen deployed in Ukraine, but according to a Facebook post by Ukrainian Interior Minister Arsen Avakov, there should be some 290 US paratroopers. Avakov said that, under an agreement with the US State Department, long-term joint drills of US paratroopers and combat units of the Ukrainian National Guard, as well as training will take place at Yavorivky.
MT @USAGBavaria Десантники 173 бригады США прибыли в Украину для обучения украинских военных http://t.co/mBVwQFRCobpic.twitter.com/ay78SsTmts

— Geoffrey Pyatt (@GeoffPyatt) April 17, 2015
The joint drills were agreed by Ukraine's President Petro Poroshenko and US Vice-President Joe Biden early in spring. The US paratroopers' training will last for 24 weeks and involve some 900 servicemen, from several Ukrainian National Guard units.
In March, the UK started its training mission in Ukraine. It was planned that up to 75 troops at a time would be engaged in a six-month-long mission, training Kiev's military "to strengthen the defensive capability of the Ukrainian armed forces and build the resilience that they need."
READ MORE: UK troops start training Ukraine's army, US confirms own mission
Russia has expressed its concerns over the military training of Ukrainian forces, saying such actions do not support conflict settlement in the east of the country.
"The presence of foreign instructors in Ukraine, where an internal conflict remains unresolved in southeast and where problems arise with the implementation of the Minsk peace agreement, does not help in settling the conflict and producing an environment beneficial for it. On the contrary, it destabilizes the situations," said Dmitry Peskov, Putin's spokesman.
Kiev and rebel forces signed a ceasefire deal in February, which involves the pullout of heavy weapons and a profound reform, which would address the grievances of the dissenting regions and reintegrate them into Ukraine. The deal has more or less held so far, with the level of violence in eastern Ukraine dropping significantly, OSCE monitors on the ground have reported.
READ MORE: US govt issues logistics support tender for 300 military personnel in Ukraine

But there is a high level of mistrust remaining among the rebels toward Kiev. The Ukrainian authorities don't appear to be willing to resume social payments in the areas they don't control, a measure specified in the ceasefire agreement.
Instead, they are investing heavily into rearming and training of the Ukrainian Army and National Guard. Combined with belligerent rhetoric dominating the political discourse in Ukraine, there is rising fear that Kiev plans a new offensive, instead of sticking to the peace plan.
You can share this story on social media: