UK troops start training Ukraine's army, US confirms own mission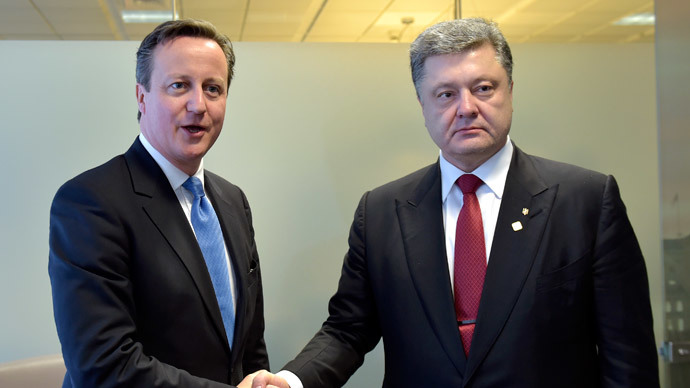 UK military personnel have arrived in Ukraine and are beginning their training mission there, Britain's Ministry of Defence has announced. Meanwhile the US will send nearly 300 paratroopers to start training the country's national guard next month.
The deployment of foreign troops has started amid a barely holding cease-fire in the country's east.
With the aim of helping Kiev's army to fight anti-government forces, according to the UK MoD, its training mission is now operating in Ukraine, with the numbers of involved personnel "depending on the schedule."
READ MORE: 'Non-lethal gifts & training': UK, Poland offer support to Ukrainian army
"The first elements of the training package began in March...we have got troops out there training," a ministry spokeswoman told AP. According to the BBC, 35 personnel are now in the country's south, deployed as part of a two-month mission.
Last month, British ministers announced that up to 75 troops at a time would be involved in a six-month-long mission, training Kiev's military "to strengthen the defensive capability of the Ukrainian armed forces and build the resilience that they need."
The UK also announced plans to send a "gift" of non-lethal equipment to support president Poroshenko's forces, but has ruled out any lethal aid supplies to the country.
Russia has expressed its concerns over the military training missions, saying such actions do not support the conflict settlement in eastern Ukraine.
"[The move] certainly does not contribute neither to strengthening of trust, nor to de-escalation of tensions in the conflict," Dmitry Peskov, the spokesman for the Russian president, said, as quoted by RIA Novosti.
US training mission to begin 'late April'
The US also plans to launch military training mission in Ukraine soon. American vice-president Joe Biden has spoken to Ukrainian president Petro Poroshenko over the phone and informed him about the start of such a mission in the near future, the Ukrainian presidential press service announced. According to the statement, Biden informed Poroshenko of President Obama's decision to train 780 Ukrainian military by US specialists.
READ MORE: US govt issues logistics support tender for 300 military personnel in Ukraine
Pentagon spokeswoman Eileen Lainez confirmed on Thursday that US soldiers from the 173rd Airborne Brigade, based in Vincenza, Italy, will travel to western Ukraine sometime in late April.
"This assistance is part of our ongoing efforts to help sustain Ukraine's defense and internal security operations," Lainez said as quoted by the Hill. An exact date for the US training mission initially announced last year has not yet been finalized.
After a final review of the mission, it now includes 290 American military trainers, according to Lainez. The training will take place in the western town of Yavoriv, near the Polish border.
The training will include six Ukrainian national guard units, "with a focus on internal security and territorial defense," Lainez added, according to AFP.
Last week Washington announced an additional $75 million worth of non-lethal military aid which includes armored and unarmored Humvees, Raven drones, anti-mortar radars and night vision goggles.
You can share this story on social media: