Israel's High Court unfreezes controversial Anti-Boycott Law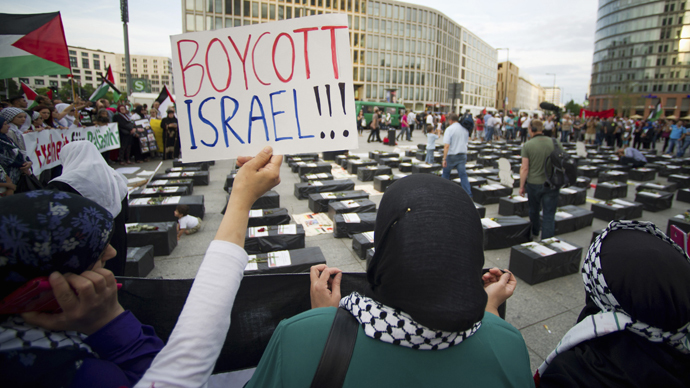 Israel's top judicial panel has upheld much-disputed 2011 legislation, which allows lawsuits and penalties against companies, NGOs and individuals who attempt to impose a boycott on Israel or its West Bank settlements.
The bill was passed four years ago to combat the nascent Palestinian-born Boycott, Divestment and Sanctions (BDS) campaign, but has been in legal limbo ever since, over accusations that it is unconstitutional. It was suspended by the same High Court of Justice in December 2012, and has never been used.
READ MORE: Sussex students vote overwhelmingly to boycott Israel goods over Gaza conflict
On Wednesday, the nine-person panel voted unanimously to preserve the broadly-worded legislation that allows anyone who has been discriminated against "solely because of their affinity with the State of Israel, one of its institutions or an area under its control, in such a way that may cause economic, cultural or academic damage," to file legal charges. An identical vote kept the right of the Ministry of Finance to take away funding, or even fine any organizations that support the BDS campaign.
In his written opinion Justice Hanan Meltzer labeled those calling for a boycott "political terrorists."
The panel did strike down a section of the law that allowed plaintiffs to sue for punitive, as opposed to just compensatory damages. The closest vote was over whether boycotts of companies and individuals in Israeli settlements outside the 1967 borders should incur the same penalties. After a 5-4 poll, the West Bank settlements, the most frequent targets of sanctions, were retained in the legislation.
The NGOs which have opposed the bill, and brought the legal appeal to the High Court, have condemned the panel's ruling.
"The boycott law is a law to silence legitimate criticism. The High Court ruling is a serious blow to freedom of expression and basic rights for political participation on a disputed topic," they said in a statement.
Prominent left-wing Israeli magazine +972, which is one of the few local media outlets to openly endorse the BDS campaign, says the continuing existence of the law is perfidious, regardless of whether it leads to legal action.
READ MORE: UCLA and Berkeley anti-Semitism resolutions 'blur lines,' hurt debate – critics
"Precisely because it was never used, its most apparent and widespread consequence has been a chilling effect, stifling political debate, free speech and non-violent resistance in Israeli civil society over the past four years," wrote its managing editor Michael Omer-man, in the wake of the ruling.
"Civil society organizations self-censored in order to protect themselves from civil suits."
Meanwhile, supporters of the Anti-Boycott law have repeatedly pointed that its Palestinian co-founder Omar Barghouti and other influential leaders do not believe in the two-state solution, and desire the destruction of Israel as a Jewish state. They have also argued that a boycott subjects Israel to much more stringent standards than other states worldwide with questionable human rights records and on-going territorial disputes.
You can share this story on social media: