Boko Haram insurgency displaces 800,000 children in N. Nigeria – UNICEF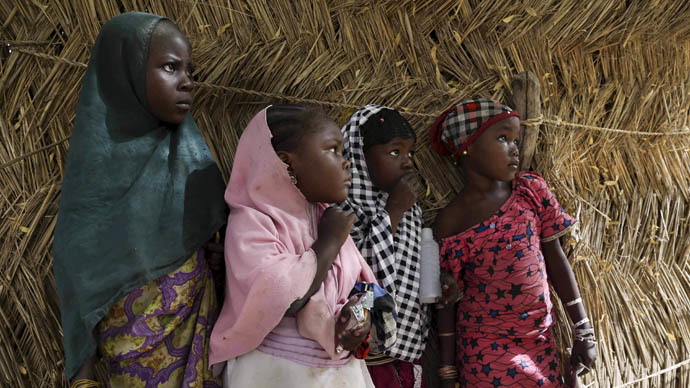 Some 800,000 children have been displaced in northeast Nigeria as fighting between Boko Haram militants and military forces rages on, UNICEF has reported a year after over 200 girls were abducted by radical Islamists.
The United Nations Children's Fund (UNICEF) released a new report, dubbed "Missing Childhoods" on Monday. It dwells on the humanitarian situation in northeastern Nigeria that is deteriorating alongside the rising violence of Boko Haram Islamist militant group.
Nigerian kids' drawings capture #BokoHaram terror http://t.co/tsgC4K4Vm1@AFP@YahooNews#BringBackOurChildhoodpic.twitter.com/2zxiknAx43

— UNICEF Press Office (@UNICEFmedia) April 13, 2015
The report estimates that the number of displaced youth stands at about 800,000. They have been made to leave their homes, fleeing to safer regions of Nigeria or neighboring Chad, Niger and Cameroon – in a figure that has more than doubled in just less than a year.
"The abduction of more than 200 girls in Chibok is only one of endless tragedies being replicated on an epic scale across Nigeria and the region," said Manuel Fontaine, UNICEF Regional Director for West and Central Africa, in a press release.
"Scores of girls and boys have gone missing in Nigeria – abducted, recruited by armed groups, attacked, used as weapons, or forced to flee violence. They have the right to get their childhoods back," he added.
More than 1.5m, over half of them children, have fled violence in #Nigeria. #BringBackOurChildhood#BringBackOurGirlspic.twitter.com/EqZHyLHiGy

— UNICEF (@UNICEF) April 13, 2015
The report stresses that young women are subjected to forced marriages, rape, and forced labor.
Boko Haram also acts against education. By the end of 2014 it had left over 300 schools damaged or destroyed and at least 196 teachers and 314 schoolchildren killed.
READ MORE: Boko Haram uses children as human bombs, 'expendable cannon fodder' – UN chief
UNICEF has recently launched a new hashtag on social media "to draw attention to the devastating impact of the conflict on children across the region" – #bringbackourchildhood. The fund also uses the Snapchat platform, where messages, or snaps, last only up to 10 seconds, to draw attention to the fact that "hundreds of thousands of children are missing out on their childhoods".
"I ran away, alone, when I saw people in my community being slayed; this is what scared me most – not the shooting," a 15-year-old Nigerian boy, a refugee in Chad, said, cited in the report. "I am worried about my parents, I was told my family was killed, but I don't think that they all died; I think some of them may still be alive."
Despite a severe lack in funding, over the past half a year, UNICEF has provided support to over 60,000 African children, who need help to cope with their stress, horrible memories and pain. The fund, alongside its partners, is working to provide safe conditions, medical services and access to education.
Over 1.2 million displaced by #BokoHaram in #Nigeria - @UNICEF#BringBackOurChildhoodhttp://t.co/99QeDjxSBepic.twitter.com/qHkUWfh47G

— Andrew Stroehlein (@astroehlein) April 13, 2015
Last April, Boko Haram kidnapped about 270 schoolgirls.
Fifty of them managed to escape later on, but the fate of the rest of the group still remains largely unknown with reports emerging that they might be used as suicide bombers.
Islamist militant group Boko Haram, with its name meaning "Western education is forbidden", fights to impose Sharia law in the West African country. Its deadly attacks have seen thousands of people killed and vast territories captured, and have led to the government declaring a state of emergency in three states since May 2013.
This year, Boko Haram asked their "brothers", the Islamic State (formerly known as ISIS\ISIL) militants to accept their allegiance, following other jihadist groups in the Middle East.
You can share this story on social media: