Breathtaking: NASA astronauts take you on a spacewalk with GoPro camera (VIDEO)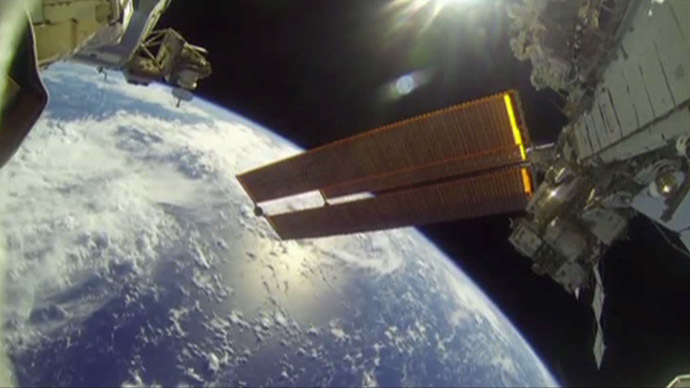 NASA has released two hours of a head-spinning GoPro video featuring two spacewalking astronauts on a maintenance mission at the International Space Station, as well as some stunning views of Earth floating by.
The footage was taken by Expedition 42 commander Barry Wilmore and flight engineer Terry Virts on February 25 and March 1.
The two carried out the spacewalks to get the ISS ready for the arrival of commercial spacecraft in the future.
The astronauts set up a few antennas and routed 400 feet of power and data cables during the mission.
All in all, they went for three spacewalks – also known as EVAs – in February and March, for 12 hours combined.
#Озеро #Балхаш - одно из крупнейших внутриконтинентальных бессточных водоемов Земли. #Казахстан#МКСpic.twitter.com/fMMUzYzn5Q

— Anton Shkaplerov (@AntonAstrey) April 3, 2015
At the beginning of the footage, we can see the Russian cosmonaut Anton Shkaplerov floating next to the astronauts.
Shkaplerov is a dedicated social networks user, and he provides the most unconventional pictures from space, with over 8,500 people following him on Instagram alone.
The cosmonaut also posted tweets with photos of Wilmore and Virts preparing for the spacewalks.
While @AstroTerry & #AstroButch are outside the #ISS, I share pictures of preparation pic.twitter.com/r029C1hnGu

— Anton Shkaplerov (@AntonAstrey) February 21, 2015