France to ban sunbed adverts, artificial tanning by minors
Published time: 4 Apr, 2015 09:55
Edited time: 4 Apr, 2015 11:01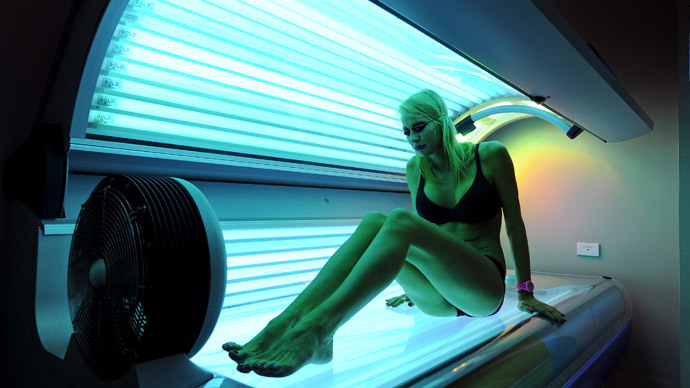 The French parliament has approved a draft law that prohibits adverts for sunbeds and artificial tanning salons, also banning minors from using the potentially dangerous equipment.
The legislation also bans selling or giving away the tanning beds to non-professionals, and requires tanning salons' staff to be properly trained on the health risks associated with the popular practice.
"Our fellow citizens don't know the risks they're taking... We are worried about the home use of these machines," Health Minister Marisol Touraine said on Friday, as cited by the Local.
Socialist legislator and former skin cancer specialist Michele Delauney has said that melanoma caused by tanning is the second-fastest-growing form of cancer in women – after lung tumors.
"The number of skin cancer cases is doubling every 10 years," Delauney added.
READ MORE: 50% of Brits will get cancer, new research finds
The National Institute of Health Surveillance said the current terms of use of the tanning equipment would result in between 500 to 2,000 deaths in France over the next three decades.
In France, there are about 10,700 tanning salons, and the country has 40,000 sunbeds.
The law is expected to come into force by the end of the year.
The French Minister of Health took action in 2013 and 2014 to regulate the activity of tanning salons, including a requirement for qualification of operators and providing users with information. However, the regulations aren't fully implemented, according to AFP.
READ MORE:Beds are burning: Australia bans solariums due to skin cancer risks
The reduction of exposure to natural and artificial UV radiation is one of the objectives of the 3rd cancer plan (2014-2019).
France is by no means the first country to have tried tackling the issue: Brazil and Australia have banned minors from salons.
The UN's World Health Organization warned: "UV radiation plays an important role in the development of skin cancer, cataracts, and other eye conditions, and suppresses the immune system."