​Beds are burning: Australia bans solariums due to skin cancer risks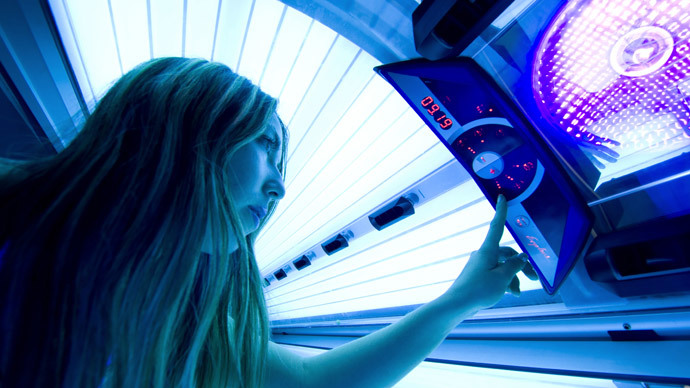 The majority of Australian states and territories are banning commercial tanning beds due to skin cancer threats starting from Thursday in "the sunburnt country" which has one of the highest rates of melanoma in the world.
The legislation will come into force in the states of New South Wales, Victoria, South Australia, Tasmania, Queensland and in the Australian Capital Territory on January 1, 2015.
Western Australia said it is also going to prohibit solariums. However the state hasn't yet announced a start date. The Northern Territory is the only part of the country where there are no commercial sunbeds.
The ban was welcomed by Cancer Council Australia, a national group aiming to promote cancer-control policies and to reduce the incidence of cancer in the country.
"Australia has one of the highest rates of skin cancer in the world," advocacy director Paul Grogan told AFP, "Solariums expose users to extremely highly levels of UV [ultraviolet] radiation, greatly increasing their risk of melanoma and other skin cancers."
According to the interim Minister of Health Mark McArdle the ban follows the concerns about the link between solarium use and skin cancer.
"Queensland already has the highest rate of skin cancer in the world and there is no question there's a direct link between regular sunbed use and the incidence of malignant melanoma," he said.
Environment Minister Ian Hunter said that "no solarium can provide a safe tan."
"Research suggests one in six melanomas in Australian young people would be prevented if solaria are shut down."
According to Cancer Council Australia the majority of skin cancers in the country are caused by exposure to UV radiation in sunlight. In 2011, total 2087 people died from skin cancer in Australia.
You already know being #SunSmart can prevent #skincancer but what else can you do to reduce your cancer risk? http://t.co/PRQSCunZnA

— Cancer Council Aust. (@CancerCouncilOz) December 12, 2014
Skin cancers account for around 80 percent of all newly diagnosed cancers in the country while two in three Australians will be diagnosed with skin cancer by the time they are 70, says the group. The incidence of the disease in Australia is one of the highest in the world, two to three times the rates in Canada, the US and the UK.
Australia is in close proximity to the hole in the ozone layer over Antarctica, which also increases the risk of cancer.
Australia is not the first country to ban tanning beds. In 2003 Brazil outlawed sunbeds for minors, then expanded it to all ages in 2009.
Indoor tanning is banned for minors in Belgium, the Netherlands, Finland, France, Germany, Spain, Iceland, Norway and Lithuania.