​Ex-Chancellor Schroeder criticizes Merkel's Russia policy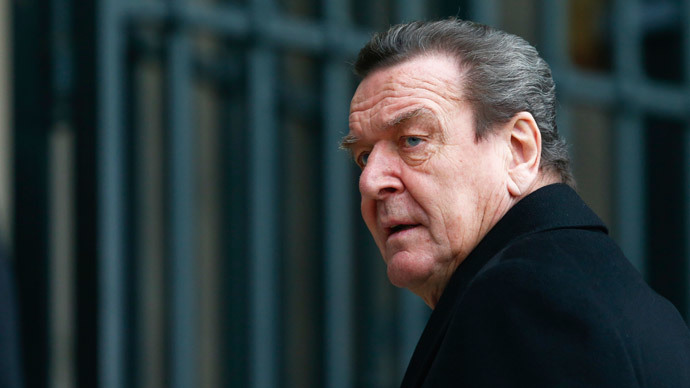 German ex-Chancellor Gerhard Schroeder has slammed Angela Merkel's policy towards Russia, saying he understands Moscow's foreign policy concerns and sees no reason to fear a possible Russian threat in Eastern Europe.
Schroeder, the chancellor of Germany from 1998-2005, fully recognized Russia's concerns, which are linked to the growing isolation of the country. "The Warsaw Pact ceased to exist with the end of the Soviet Union, while NATO not only survived, but also has extensively expanded to the East," he said in a Saturday interview to Der Spiegel.
READ MORE: Prominent Germans urge West to stop sabre rattling toward Russia
Schroeder said he knows "no one, not even in Russia, who would be so mad as to just consider placing in question the territorial integrity of Poland or the Baltic states," he said, seeking to lessen the fears of Russia's Eastern European neighbors.
The Social Democrat also criticized the attitude of Chancellor Angela Merkel towards Russia. He pointed out that Berlin shouldn't let the EU Commission "have talks about the EU-association only with Ukraine, and not with Russia," also stressing that "Ukrainian culture is split itself."
Schroeder has insisted that the attempt of the international isolation of Russia is "wrong," as responsibility for the Ukraine crisis is "on all parties." He said that "in this conflict, mistakes have been made by all the sides, and they have led to a spiral of threats, sanctions and the resort to force."
However, he said that Crimea joining Russia last year was a "violation of the international law." Still, commenting on the expulsion of Russia from the G8 group in 2014, he said that "during a crisis talks are absolutely necessary."
READ MORE: Germany wants Greece in eurozone, but demands more reforms
Schroeder also mentioned the German government's policy on Greece, calling it "too little European, and too German." The country is one of Greece's creditors, and Merkel has urged Athens to commit to implementing structural reforms in order to repay bailout money.
On Thursday, the German parliament approved the EU's association agreement with Ukraine, as well as with two other former Soviet Union states, Moldova and Georgia. It means a "new level of cooperation," according to German Foreign Minister Frank-Walter Steinmeier, as all three countries will be preparing for future European Union membership.
At the beginning of March, the head of the Russian Ministry of Economic Development and Trade, Alexey Ulyukaev, said that Moscow still had concerns about the economic impact of the EU's association agreement with Ukraine.
You can share this story on social media: