Pilot panic: Germanwings crews refuse to fly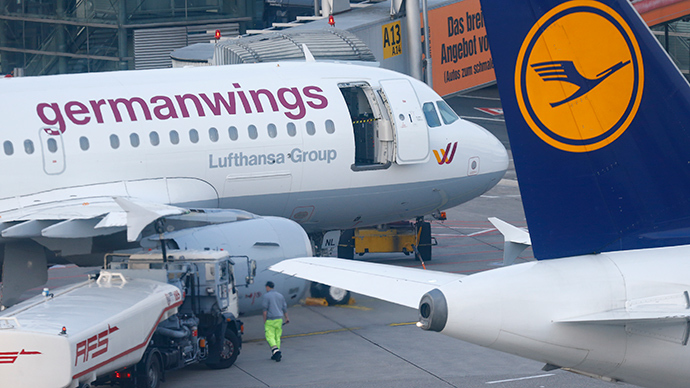 After the Germanwings' A320 crash in the French Alps some crews of the low-cost carrier have refused to fly, citing "personal reasons." The airline's spokesman insists the problem has nothing to do with the technical condition of its planes.
Germanwings had to cancel several flights Tuesday because crews refused to fly, having learned that the crashed Flight 9525 had been grounded the day before it crashed.
Lufthansa, Germany's national flag carrier and the owner of Germanwings, has refused to confirm there is any connection between the canceled flights and repairs of the ill-fated A320.
READ MORE: Germanwings A320 passenger plane crashes in Southern France
The pilots and crewmembers who refused to fly did so because they were in "deep distress" over the crash that claimed 150 lives, a Lufthansa spokeswoman said.
"Some have refused their service for personal reasons, but not out of concern that something there is out of order,' the spokeswoman told the dpa news agency.
Some #Germanwings pilots are refusing to fly after the crash, forcing the airline to cancel flights, AFP reports. pic.twitter.com/s10etyWhED

— Bizz_Facts (@ymtreb) March 25, 2015
Lufthansa CEO Carsten Spohr said he understood the concerns of the crewmembers.
"One must not forget: many of our Germanwings crews have known crewmembers who were onboard the crashed plane," Spohr said, Deutsche Welle reported.
"It is now more important to ensure psychological assistance if needed. And we will get back to a full flight operation as soon as possible then. But for me, this is rather secondary now," he said.
The repairs of the nose-wheel landing doors of the doomed plane on Monday lasted one hour, and the aircraft made a number of flights after the repair was carried out.
"The repair was purely to fix a noise that the door was making, and the aircraft was flying again from 10am Monday," Germanwings' spokesman said, the International Business Times reported.
Germanwings reportedly canceled seven flights to various destinations from Dusseldorf, and three flights from Stuttgart.
Der Spiegel reported that the canceled flights were to Madrid, Stockholm and London.
#Germanwings CEO Thomas Winkelmanm confirmed on Wednesday that two Americans were aboard doomed flight #4U9525 that crashed Tuesday in the French Alps. Recovery efforts are underway in the mountainous crash area, and workers have so far recovered at least one flight data recorder. #news Read more on www.rt.com

A video posted by RT America (@rt_america) on Mar 25, 2015 at 8:20am PDT

The Daily Mail reported that a Lufthansa A321 plane, a larger version of the A320, experienced similar problems with sudden loss of height last year while flying over Spain with 109 passengers onboard.
In November, the A321 unexpectedly lost a whole kilometer of height before the pilots managed to regain control of the aircraft.
The Germanwings A320, carrying 150 people, crashed on its way from Barcelona to Dusseldorf on Tuesday.
READ MORE: Airbus A320 plane crash in Southern France LIVE UPDATES
"There is some information that is starting to surface on the web that seems to indicate that the plane initially had a very high descent rate from its cruising level," Marin Medic, a pilot who flies Airbus A320s, told RT. "Meaning that it started descending very rapidly, very quickly in a short period of time, which could be indicative of a pressurization problem or a complete loss of pressurization, in which case the pilots would attempt to get the plane down to a breathable altitude as soon as possible, but so far that's really all we know."
LIVE: First images have been released of the #Germanwings plane's damaged black box http://t.co/EIy4GZAFETpic.twitter.com/glrZyEpwtr

— The Local France (@TheLocalFrance) March 25, 2015