Germanwings A320 passenger plane crashes in Southern France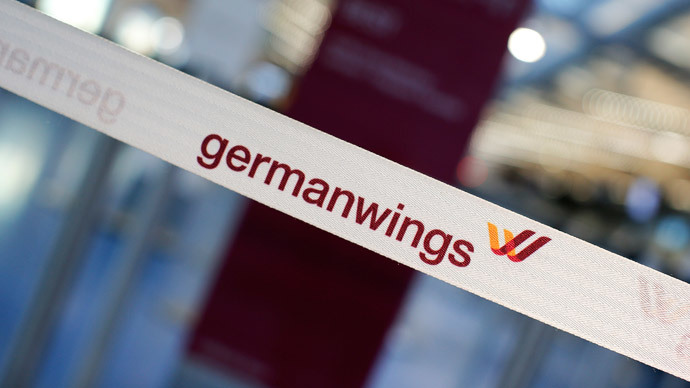 An Airbus A320 with 144 passengers and 6 crewmembers has crashed in Digne region, southern France. The jet, which belonged to Germanwings low-cost airline, was flying from Barcelona to Düsseldorf.
READ MORE: A320 passenger jet crashes in Southern France LIVE UPDATES
The jet took off from Barcelona airport at 08:55 GMT, according to Spanish Airport operator AENA.
The plane crash in the French Alps was confirmed by General Directorate of Civil Aviation (DGCA). The jet crashed in the Upper Bléone Valley, Le Provence wrote. "There are no survivors" in the crash of Germanwings flight 4U9525 in the French Alps, said Alain Vidal, secretary of state for transport on Europe."There was a distress call…. This distress signal showed that the aircraft was at 1524 meters, in an abnormal situation," he said.
Reports German Wings flight #9525 from Barcelona to Dusseldorf crashes near Digne, France http://t.co/XTMaa9mAV2pic.twitter.com/Oll8PZu4uH

— RT (@RT_com) March 24, 2015
Need to know: Airbus A320

Single-aisle narrow-body jet, popular for short- and medium-haul flights
Can hold up to 180 passengers
As of November 2014, a total of 11,163 A320 jets ordered, and 6,331 planes delivered to date
The A320's biggest users are US Airways, EasyJet China Southern Airlines, China Eastern Airlines
British Airways operates 120 Airbus A320s
Each A320 costs $97 million
The A320's first flight was on February 22, 1987
France's Interior Minister Bernard Cazeneuve has confirmed the plane crash and is headed to the scene, local TV reported. He added that debris from the crashed jet has been found near a village.He added that debris from crashed jet has been found near the small town of Barcelonnette, a commune in Alpes-de-Haute-Provence,about 100 km (65 miles) north of the French Riviera city of Nice.
President Francois Hollande said there were no survivors among the 148 people on board, RTL reported. "There were 148 people on board," French President Francois Hollande said. "The conditions of the accident, which have not yet been clarified, lead us to think there are no survivors."He also expressed condolences to the families of the victims on his official Twitter account.
Hollande also expressed his sympathies to German Chancellor Angela Merkel over the fate of German citizens on board the plane, who were believed to constitute a majority of the passengers. He added that Turkish residents are believed to be among the victims as well.
Forty-five passengers on board the crashed jet are believed to be Spanish, said Spain's Deputy PM Soraya Sáenz de Santamaría.
Je veux exprimer aux familles des victimes de cet accident aérien toute ma solidarité. C'est un deuil, une tragédie.

— François Hollande (@fhollande) March 24, 2015
French Prime Minister Manuel Valls said there are fears up to 150 passengers and crew died in the crash, adding that the cause is not yet known.
"We of course don't know the reasons for the crash," Valls told the media. "We obviously fear that the 142 to 150 passengers and crew died today, given the conditions of this crash."
#Germanwings crash: Arrivals board at #Dusseldorf airport http://t.co/zU6hn03xzUpic.twitter.com/MOQt2LDido

— RT (@RT_com) March 24, 2015
A local witness said he heard a series of loud noises in the air before the jet crashed to the ground.
"There are often fighter jets flying over, so I thought it sounded just like that. I looked outside, but I couldn't see any fighter planes," the owner of a French Alpine camping ground, Pierre Polizzi, told AP.
BREAKING Emergency units staging in Seyne-les-Alpes, near #4U9525 crash site /@Aviaponchohttp://t.co/wFg8KTSve2pic.twitter.com/NaHq3MIOlz

— AirLive.net (@airlivenet) March 24, 2015
"The noise I heard was long - like eight seconds - as if the plane was going more slowly than a military plane speed. There was another long noise about 30 seconds later."
#A320 CRASH: Airbus crashes in area of #Digne, S. France - reports http://t.co/XTMaa9mAV2pic.twitter.com/CgJH5KE29K

— RT (@RT_com) March 24, 2015
According to the German Civil Aviation Service, 154 people were killed in the crash.
The plane was lost from the radars at about 09:39 GMT, according to flightradar24, an internet service displaying real-time aircraft flight information on a map.
Germanwings flight #4U9525 (registration D-AIPX) was lost from Flightradar24 at 6800 feet at 09.39 UTC time. pic.twitter.com/vZaQMUlLaZ

— Flightradar24 (@flightradar24) March 24, 2015
"...on 4U 9525. If our fears are confirmed, this is a dark day for Lufthansa. We hope to find survivors." Carsten Spohr 2/2

— Lufthansa (@lufthansa) March 24, 2015
Meteorological conditions were expected to be quiet at the time of the crash, but the jet reportedly went through unstable weather conditions in the Mediterranean, French weather TV channel La Chaîne Météo said.
Last position of Germanwings flight #4U9525 at 09:40 UTC http://t.co/FHoX6q0GHtpic.twitter.com/72pxGKolRM

— Flightradar24 (@flightradar24) March 24, 2015
Germanwings, a low-cost airline based in Cologne, tweeted that they will inform media immediately about the incident, "as soon as definite information is available."
Germanwings, a German low-cost airline based in Cologne, is owned by Lufthansa, the largest airline in Europe. The company fleet has a total of 81 aircraft in service, including Airbus A319s and A320s, and Bombardier CRJ900s. Germanwings airlines has confirmed on Twitter that one of its A320 jets crashed.
UPDATE: Wir müssen leider bestätigen, dass Flug 4U9525 auf dem Flug von BCN nach DUS über den französischen Alpen verunglückt ist ...

— Germanwings (@germanwings) March 24, 2015
The Airbus A320, a medium-range commercial passenger jet, typically seats 150 to 180 people.
#GermanWings A320 Airbus 24 yrs old, first flight was in November 1990 http://t.co/zU6hn03xzU#4U9525pic.twitter.com/picb9shVF2

— RT (@RT_com) March 24, 2015
In the previous crash involving an Airbus A320 plane, AirAsia's QZ8501 flight was en route to Singapore from Surabaya, Indonesia, on December 28. Out of 162 people on board, there were no survivors.
READ MORE:An explosion? Conflicting theories on what caused AirAsia jet crash
The last notable air disaster in France was in 2000, when a Concorde operated by Air France crashed on takeoff from Paris Charles de Gaulle Airport heading for New York. One hundred and thirteen people died in the crash.
You can share this story on social media: