​Spread of antibiotic-resistant infections linked to …corruption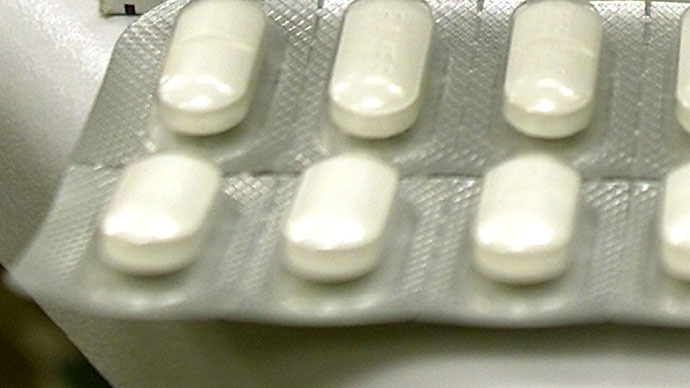 Australian researchers have found out that the rise in antibiotic-resistant infections – one of the greatest threats to the modern medicine – correlates to poor governance and corruption around the world.
Scientists at the Australian National University (ANU) have thoroughly studied deaths from antibiotic-resistant bacteria across the world along with national political and economic situations – and have found out that their levels do not necessarily depend on the state's wealth or prosperity. They published the results of their research in the journal PLOS ONE on Wednesday.
READ MORE: Antibiotics cause dangerous bacteria communities to appear, study says
"We found poor governance and higher levels of corruption are associated with higher levels of antibiotic resistance," lead researcher Peter Collignon said in a statement. "It is a finding that will be surprising to most people in the field of medicine."
Even widespread and commonly treated infections are now becoming life-threatening, the World Health Organization (WHO) warned, adding that there is an impending crisis in the global healthcare system. In the US alone, antibiotic-resistant bacteria takes the lives of around 23,000 people – some two million illnesses annually.
Co-author Sanjaya Senanayake said, "In countries with greater corruption, antibiotic usage may also be much higher than what is recorded. If governance and control of corruption can be improved, this can be an important factor in reversing high levels of antibiotic resistance."
READ MORE: White House wants $1.2bn to fight antibiotic-resistant bacteria, looming superbug epidemic
According to the scientists, it is not necessarily beneficial for healthcare services to be performed by the private sector.
"This may be because clinicians in the private health system are subject to fewer controls when it comes to both the volumes and types of antibiotics used," Senanayake said. "If more appropriate prescribing and better antimicrobial stewardship were to take place, that will likely result in lower levels of antibiotic resistance."
To save lives in the future, scientists are urging for corruption to be addressed, pointing out that drug resistance is not an "inevitable consequence" of the financial situation within any country.
"If governance and corruption issues can be better addressed, it is very likely that major reductions in levels of antibiotic resistance will result – this will also lead to many other benefits worldwide," co-researcher Premachandra Athukorala said.