'Death, bring back Terry Pratchett!' Thousands of fans sign online petition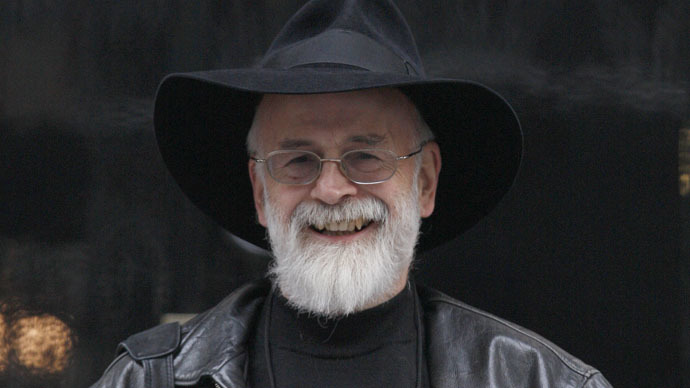 An online petition calling on Death to "Reinstate Terry Pratchett" has garnered almost 6,000 signatures less than a day after the cult fantasy writer's passing at age 66.
"There are times in life when people must know when not to let go. Balloons are designed to teach small children this," the petition's description at Change.org quotes Pratchett as saying.
A fan started the petition hours after the world-famous novelist died after a years-long battle with Alzheimer's on Thursday. Death himself appeared on the novelist's Twitter account.
AT LAST, SIR TERRY, WE MUST WALK TOGETHER.

— Terry Pratchett (@terryandrob) March 12, 2015
Death, known for his signature habit of ALWAYS SPEAKING IN CAPITALS in Pratchett's novels, is one of the most popular and prominent characters of Terry Pratchett's Discworld series. He appears in 38 out of the 40 Discworld books published so far. In five of them, Death is a leading character.
Some of the fans explained why they chose to sign the petition. "STP [Sir Terry Pratchett] gave Death life. It's only fair he return the favor," wrote Stephen Carvalho, of New Hampshire.
Others were plain angry at Death for taking their favorite writer. "Listen here, Sir Terry made you what you are. Nobody liked you before he came along so do us all a favor and bring him back NOW, you ungrateful bastard!" said Jacqueline Prager, logging on from Bucharest, Romania.
READ MORE: 'So much universe, and so little time': Fans remember Terry Pratchett's best quotes
Another fan even suggested negotiating. "If there's a quota which needs to be satisfied; couldn't DEATH just do a straight swap for Jeremy Clarkson..?" asked another Pratchettite, Steve Martin from Illinois.
Dear Death, Would it be possible to swap #TerryPratchett for Jeremy Clarkson? #RIPTerryPratchett#PratchettQuoteshttp://t.co/FjHpOkxjNl

— BeezlyStreet Gazette (@BeezlyStreet) March 12, 2015
That comment was referring to another ironic online petition from the UK this week. It's urging the BBC to reinstate controversial Top Gear presenter Jeremy Clarkson. He was suspended earlier this week after punching one of the show's producers. That petition has over 800,000 supporters – a number that the author of the "Reinstate Terry Pratchett" petition believes he will never beat.
Sir Terry Pratchett sold over 85 million books around the world. He was diagnosed with a rare form of Alzheimer's in 2007, after an earlier, erroneous diagnosis of a minor stroke. Although his motor skills were impaired, he kept writing and completed his 41st Discworld novel, The Shepherd's Crown, last summer. It is due to be published later in 2015.
Pratchett's fans around the world have made moving tributes to him. His Russian fans are getting together online via social media, with a plan to lay flowers in his memory at the UK Embassy in Moscow on Friday evening.
You can share this story on social media: