EU readies action plan to counter Russian media 'disinformation'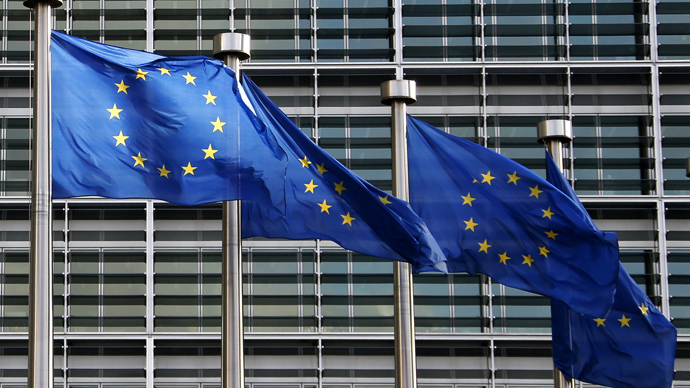 European leaders are determined to tackle what they see as Russian "disinformation campaigns" and are giving the EU foreign policy chief three months to come up with ideas in how to do this, a leaked document reveals.
Draft proposals for an EU summit to take place March 19-20 have been obtained by Reuters.
According to the proposals, the European Commission High Representative for Foreign Affairs, Federica Mogherini, will be asked to deliver an "action plan" in support of "media freedom" in three months.
"The European Council stresses the need to challenge Russia's ongoing disinformation campaigns and invites the High Representative... to prepare by the June European Council an action plan on strategic communication in support of media freedom and EU values," the draft says.
"It welcomes the establishment of a communication team as a first step in this regard," it goes on to say.
The Reuters article on the issue specifically mentions RT, as an example of a Russian government-funded news outlet "steadily expanding their operations."
The news outlet also cited an unnamed EU diplomat, who said there was "growing concern with the Russian propaganda and it is coming to a head now."
The West's claims of free speech and expression run counter to their actions, Alexander Mercouris, a London-based international affairs analyst, told RT.
"The West has always claimed that it is not into propaganda, believes in free expression and in the free exchange of opinions. And yet here we are – the West setting up what to all intents and purposes sounds like a propaganda channel to broadcast the Western view into Russia. So they are saying one thing and doing the opposite," he said.
As the Western media "speaks with one voice and says things which many people in the West find difficult to accept," people are looking for alternative news channels, which "they consider reliable and objective, and the one they have found is RT," Mercouris said.
READ MORE: American broadcasters see RT as major challenge, want to try to compete
By trying to come up with a challenge to Russia's voice getting louder in international media outlets, the EU is apparently following in the footsteps of the US.
The Broadcasting Board of Governors (BBG), a US bipartisan agency that supervises government-sponsored media, proposed setting up a Russian-language TV channel so that the US "could compete with Russia Today [RT]" in August 2014.
In January this year the then newly-appointed chief of US Broadcasting Board of Governors (BBG), Andrew Lack, has named RT one of the agency's main challenges. The fact that the other two challenges on his list were ISIS and Boko Haram got the official into hot water with journalists and the human rights community.
READ MORE: Ex-BBG member: News outlets should never be compared to terrorists
Secretary of State John Kerry has recently asked US lawmakers for more money for propaganda and "democracy promotion" programs around the world.
"Russia Today (sic) can be heard in English, do we have an equivalent that can be heard in Russian? It's a pretty expensive proposition. They are spending huge amounts of money," Kerry said.
"Huge amounts of money," allegedly spent on international broadcasting, are often mentioned by western politicians. Representative Ed Royce (R-CA) has recently estimated that $500 million was spent on RT.
READ MORE: For propaganda & 'democracy promotion': State Dept seeks budget to counter RT
In reality, RT's budget for 2015 is less than half the amount cited by Royce – $225 million, according to the current exchange rate, or 13.85 billion rubles. By contrast, the US government media receives $721 million. The BBC World Service, which complained about RT "winning the information war" in January, is funded to the tune of $375 million a year.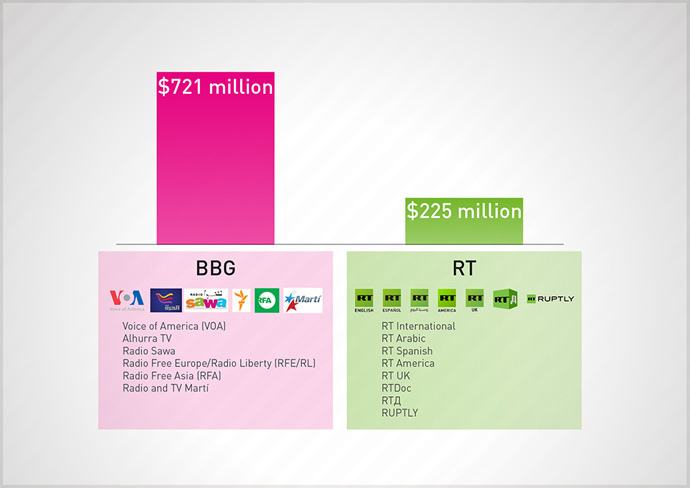 Not everyone agrees that the popularity of a media outlet depends on the amount of funding it gets.
"I think the problem the US has is they have an unlimited advertising budget, but the product they're selling is not very attractive overseas," Executive Director of the Ron Paul Institute, Daniel McAdams, told RT. "People are tired of US interventionism; they're tired of US exceptionalism; they're tired of the US bombing their country – if you're a Somalian, you don't care about listening to a radio broadcast from the US, you just wish the US would stop bombing you."

READ MORE: Edward Lucas suggests KGB methods against RT
Even Edward Lucas, the senior editor at The Economist magazine and one of RT's fiercest critics, acknowledged its popularity was due to demand for a viewpoint different from ones offered by the Western media.
"Why do people watch RT so avidly? Because they think that the mainstream media is not telling them the truth and they are fed up with the political elite in our countries," he said.
You can share this story on social media: