American broadcasters see RT as major challenge, want to try to compete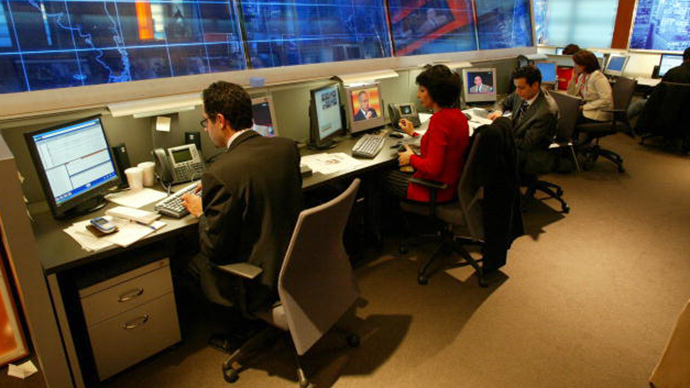 The Ukraine crisis has shown that Russia has been strong in getting its message across to international audiences, a meeting of US international media chiefs concluded, outlining the need for Washington to create a Russian-language TV news channel.
The Broadcasting Board of Governors (BBG), a bipartisan agency that supervises government-sponsored media, targeting international audiences, met Wednesday to discuss the coverage of the Ukraine crisis.

That's where a proposal for setting up a TV channel for the Russian-speaking audience was voiced. It was important to do so "under the circumstances of this kind of information battlefield in and around Russia and Ukraine," according to a participant of the meeting.

"Let's put together a plan of how much that would cost and how to do something that we could compete with Russia Today [RT] and then let's go to the Hill and then let's go to the White House and tell them what it's going to cost to compete and let's see if we can do it," BBG chairman Jeffrey Shell said.

"It seems like for a government like ours and for a nation like ours a vision of having a 24/7 video channel for Russia should not be something that we think is out of reach," he added.
Obama foreign policy adviser Ben Rhodes, who participated in the meeting, said the current developments in Ukraine were "a perfect test case for the environment that we're in right now." One of the things the "test case" showed was increased competition in international broadcasting, he said.

"Russia Today [RT], for instance, has obviously been very broadly disseminated," Rhodes said. "And it is a good time for us to step back and think through how the US is communicating... and what additional steps we can do to meet the challenge of getting information out in an increasingly competitive environment."

He also made mention of "many different platforms," including YouTube and Twitter, that the Russians were using widely in conjunction with their TV broadcasting.
Russia's "sophisticated" use of social media has also impressed Under Secretary for Public Diplomacy and Public Affairs, Richard Stengel.
"One of the things I've seen and have been surprised by in my time here is just how sophisticated their messaging is on social media, and just like you, I think this is the area that we should own and we don't own it," he said.
In June, the RT website received one of the most prestigious awards in the online industry, outperforming 36 other competitors and winning "The Best in Class" nomination in the News Website category of the contest set by the Interactive Media Awards.
A year ago, RT became the first TV news channel to garner 1 billion views on YouTube . Also in 2013, RT's Facebook page recorded over 1 million likes.
Stengel explained the progress made by the Russian media by the country's government "spending billions of dollars" on it. By comparison, RT's annual budget is currently around $300 million, a reduction from the $380 million it received in 2011.
US officials might see Russian media as a strong competitor, but they have also dismissed out of hand Russian broadcasters' content as "misinformation." Rhodes said the US had "to be very aggressive in correcting misinformation."
US television professionals, however, have repeatedly nominated RT's reporting for media awards. RT received an Emmy nomination for its series of Guantanamo hunger strike reports, and the channel was earlier nominated for Emmies in 2010 and 2012.
The channel's achievements internationally could make US politicians feel uneasy, RT's editor-in-chief, Margarita Simonyan, said.
"The US is losing its monopoly in the global information community," she said. "That irritates the US political elite. That's why the Secretary of State describes RT as a 'propaganda bullhorn' and international broadcasters try to think up plans for how to compete with us."
BBG international broadcasters currently include the Voice of America (VOA) and Radio Free Europe/Radio Liberty (RFE/RL) broadcasting in Russia, Eastern Europe and Central Asia, Alhurra and Radio Sawa broadcasting in the Middle East, Radio Free Asia (RFA) broadcasting in East Asia, and Radio and TV Martí broadcasting in Cuba.
You can share this story on social media: