Russia 'completely ending' activities under Conventional Armed Forces in Europe treaty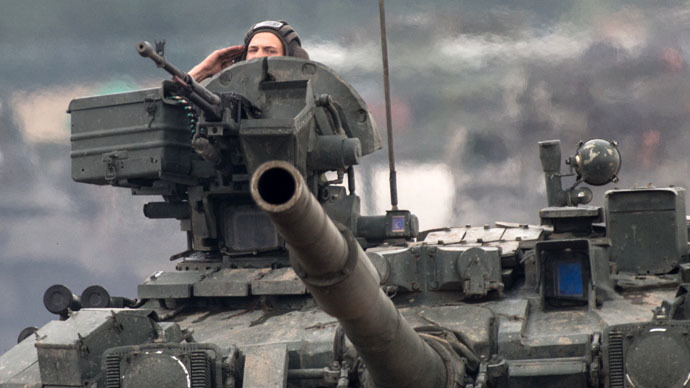 Moscow has announced it is "completely" ending activities under the Treaty on Conventional Armed Forces in Europe (CFE). Russia's participation in the treaty was first halted in 2007.
"The Russian Federation has taken the decision to halt its participation in meetings of the [consulting group] from March 11, 2015. Therefore, Russia is ending its actions in the Treaty on Conventional Armed Forces in Europe, announced in 2007, completely," a statement from the Foreign Ministry said.
Moscow has asked Belarus to represent Russia's interests in the group starting from Wednesday, the statement said.
According to the Ministry, the move does not mean that Moscow refuses to continue further dialogue on control of conventional armed forces in Europe - "if and when our partners are ready for it," the Ministry official said in the statement, adding that future work on the project should serve the interests of both Russia and other European states.
The original CFE Treaty, signed in 1990 by 16 NATO and six Warsaw Pact, set equal ceilings for each bloc on key categories of conventional armaments, with tanks, combat armored vehicles, artillery, assault helicopters and combat aircraft among them. For instance, under the treaty, each side is supposed to have no more than 16,500 tanks or 27,300 armored combat vehicles in active units.
READ MORE: 6 NATO warships take part in Black Sea naval drills
1999 saw an "adapted" version of the treaty signed. However NATO members refused to ratify it until Russia withdrew troops from Georgia and the breakaway Moldovan region of Transdnestria. Russia slammed the condition as an "artificial linkage."
In December 2007 this led to Moscow imposing a moratorium on the CFE treaty. Moscow also said the treaty was "irrelevant" since NATO planned to increase its military presence in Eastern Europe.
Four years later, the North Atlantic bloc stated exchange of information on conventional weapons and troops with Russia would be stopped. In November 2014, Moscow suspended the implementation of the CFE Treaty. Two months later, the US House of Representatives issued a resolution condemning Russia and, among other points, urging president Obama to review US and NATO armed forces readiness under the CFE.
"For many years the Russian Federation has been doing everything possible to maintain... the treaty, initiated talks on its adaptation and ratified the adaptation agreement," Moscow said Tuesday, adding that all such efforts have been dismissed by NATO in favor of the alliance's expansion.
Meanwhile, Norway has started military exercises in its northernmost province, which borders Russia's Kola Peninsula. Called 'Joint Viking,' the one-week war games involve 5,000 Norwegian troops and 400 vehicles, the largest military training exercise in nearly 50 years in the country, which has been promoting closer military cooperation with NATO member states after escalation of the Ukrainian crisis.
You can share this story on social media: