Joint Viking: Norway buzzes Russian border with biggest military drill since Cold War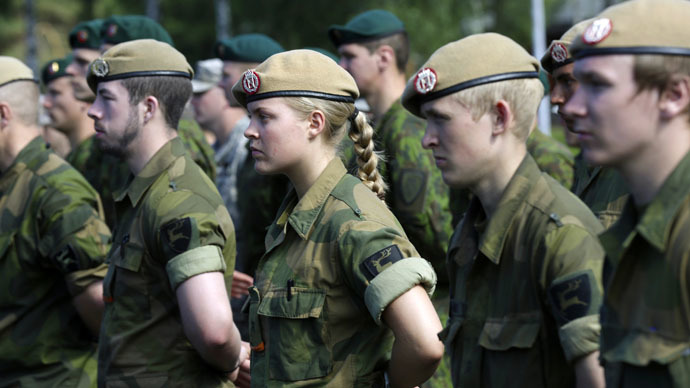 Unprecedented war games, involving 5,000 Norwegian troops and 400 vehicles, have started in Norway's northernmost province, bordering Russia. The biggest exercises since Cold War days will last for a week, amid growing tensions between Russia and NATO.
Joint Viking, Norway's biggest military training exercise in nearly 50 years, is being held in the country's far northeast Finnmark County, above the Arctic Circle. The region borders Russia's Kola Peninsula.
The last time a similar military exercise was conducted in Finnmark was in 1967.
"Today the army will transport their vehicles and crews to Finnmark and begin exercise Joint Viking. This is an operative exercise with all weapons and branches involved," Norwegian Army spokesperson Lt. Col. Aleksander Jankov said. "To illustrate the magnitude of this, I can mention that if we put the vehicles one after another on the road it will stretch 6km."
MT @vpkivimaki#Norway plans largest military ex in #Finnmark in nearly 50 yrs w/ 5k soldiers http://t.co/DKPIOivveypic.twitter.com/DitrukoUd2

— hp (@2111015) December 6, 2014
Apart from the ground troops involved, the exercise (which will last until March 18) has put Norway's Navy submarines and surface vessels off the coast of Finnmark and Air Force fighter jets on alert. All types of weapons are promised to be put to use, reports the Barentz Observer.
READ MORE: Flight fright: Russian MiG-31 jet pulls midair maneuver on Norwegian F-16 (VIDEO)
The buildup of military activities next to Russian border does not promote restoration of confidence in Euro-Atlantic, acknowledged Russian Foreign Minister Sergey Lavrov after meeting with his Spanish counterpart.
"We believe problems should be resolved through equitable and mutually respecting dialogue," Lavrov said, stressing that Moscow reserves the right to "react adequately" to the drills in Norway.
The Russian Air Force staged military training of its own last week, when fighter jets from Monchegorsk Air Base on the Kola Peninsula trained intercepting enemy cruise missiles and aircraft.
READ MORE: US armor paraded 300m from Russian border (VIDEO)
Norway is planning a large joint air force exercise for May, in which more than 100 planes from eight NATO member states are going to take part in the Arctic Challenge Exercise in the skies of the Barents Sea region. The joint task force will be performing training lights from airfields in Luleå (Sweden), Rovaniemi (Finland) and Bodø (Norway).
Army #researchers return to #Norway for #nutrition, cold-stress #study in Arctic extremes http://t.co/vlk9Y0R0iBpic.twitter.com/TuLz1wJcB7

— DefenceTalk.com (@defencetalk) March 6, 2015
Last October Defense Minister Sergey Shoigu said that in 2015 Russia will be ready to "meet unwelcome guests" coming from any direction, after completing a network of radar stations in the Arctic.
In December 2014, Russia's Northern Fleet was announced as the backbone of the new Arctic Command, with an area of engagement including the high-latitude areas of the Arctic Ocean and the North Pole.
In February 2015, Shoigu confirmed that Russia may consider protecting its national interests in the Arctic with military means if necessary, pointing to the increasing interest in the region's resources by countries with no direct access to the Arctic.
READ MORE: Over 100 US armored vehicles roll into Latvia, NATO flexes muscles in Europe (VIDEO)
"The constant military presence in the Arctic and a possibility to protect the state's interests by the military means are regarded as an integral part of the general policy to guarantee national security," Shoigu said at a Ministry of Defense meeting.
#Norway's improved CV90s start rolling off the production line http://t.co/MFNh3ciukt#military#army#technologypic.twitter.com/4ifoLdHupp

— Nick de Larrinaga (@NickJDWEurope) February 27, 2015
Just a couple of years ago Norway and Russia, which share a Barents Sea coastline and an almost-200km border, used to hold joint military trainings. The last one, named Pomor, was held in 2013 and involved visits by Norwegian battleships to Russia's port of Severomorsk and the Russian Navy calling to the Norway's port of Tromsø in the north.
After the escalation of the crisis in Ukraine and reunification of the Crimean Peninsula with Russia, Oslo suspended all military contacts with Moscow, simultaneously promoting closer military cooperation with other Scandinavian capitals and NATO member states.
You can share this story on social media: