6 NATO warships take part in Black Sea naval drills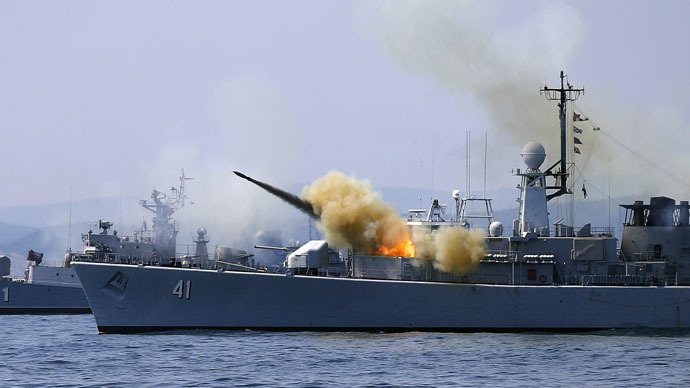 NATO has carried out naval drills in the Black Sea, including anti-air and anti-submarine exercises. The maneuvers featured Black Sea littoral members of the alliance Bulgaria, Romania and Turkey, as well as four other countries.
The joint exercise saw six vessels take part, including the guided missile cruiser USS Vicksburg, while ships from Canada, Germany and Italy were also present. The operation was headed by US Rear Admiral Brad Williamson.
According to a Bulgarian navy spokesman, the training drills featured simulated anti-air and anti-submarine warfare exercises, as well as simulated small boat attacks and basic ship handling maneuvers.
"The training and exercises we will conduct with our Allies in the Black Sea prepares us to undertake any mission NATO might require to meet its obligations for collective defense," Williamson was cited as saying by the alliance's Maritime Command (MARCOM)'s website.
The drills in the Black Sea are likely to further antagonize already strained relations with Russia. The US and NATO are outraged by Crimea's decision to cede from Ukraine and join Russia and have been increasing their military and naval presence in the region.
However, MARCOM says the visit of the NATO vessels to the Black Sea and is part of scheduled visit, which is in full compliance with international conventions. The Group is expected to leave the Black Sea and make its way back to the Mediterranean Sea later in March.
"NATO regularly deploys ships to the Black Sea for maritime awareness and training. This scheduled deployment, given Russia's continued assertiveness, carries an additional message of reassurance to allies in the region," a NATO official told Reuters.
Previously, Russia's envoy to NATO, Aleksandr Grushko, said Moscow would take "necessary countermeasures" in response to the Alliance's increased presence in the Black Sea, which borders Russia, Ukraine, Turkey and several other countries.
NATO sent additional ships to the Black Sea after Russia's reunification with the Republic of Crimea in March last year and the beginning of military conflict in April same year.
READ MORE: 6 NATO ships to stage war games in Black Sea
Russian Deputy Defense Minister Anatoly Antonov says allied forces are ignoring diplomacy and NATO is using the situation in Ukraine to push closer to Russia's border. However, he dismissed the idea that the drills being carried out in the Baltic States, Poland and the Black Sea were a threat to Russia.
"Instead of uniting forces to fight evil, the worst of which is terrorism, Western nations are drawing new divisive lines, trying to realize containment schemes against unwelcome states. Today, Russia has been chosen as the target," Antonov said on March 5.
He cited another example of a NATO military parade on February 24, held just 300 meters from the Russian border, in the Estonian town of Narva. About 140 pieces of armor and 10 times as many troops, including US soldiers, took part in that event.
'US troops drills in Baltic states more political than military show' (Op-Edge) http://t.co/5rtbCcd6Orpic.twitter.com/OVPhBXx1AE

— RT (@RT_com) March 10, 2015
Moscow saw it as a stab in its direction, but Estonia defended its right to host a parade, saying it can move military whichever way it likes on its territory – the same argument used by Russia when accused of military build-up along its borders.
The US has been conducting exercises incorporated into Operation Atlantic Resolve since April 2014. However, Washington is keen to expand the operation from the Baltic to the Black Sea. Romania and Bulgaria have already joined to create a 'southern' flank, while Hungary, the Czech Republic and Georgia could also agree to take part, according to a US Army official spearheading the effort.
"So by the end of the summer, you could very well see an operation that stretches from the Baltics all the way down to the Black Sea," said Colonel Michael Foster, of the 173rd Airborne Brigade, which is based in Italy. "As you connect countries, there is almost a line of US troops," as cited by Defense News on March 2.
You can share this story on social media: