​ISIS taking advantage of Syrian conflict, opposition & govt should cease fire – UN envoy tells RT
It would be far more easy to address the issue of ISIS in Syria if the opposition and the government negotiated a ceasefire, the UN envoy Staffan de Mistura told RT, emphasizing that the mediators' role is to help Syrian people find a Syrian solution.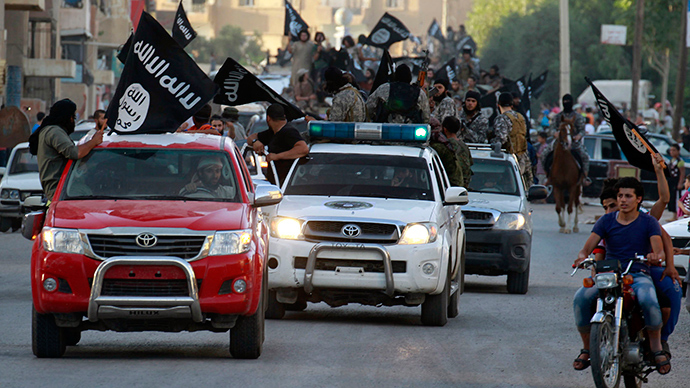 RT:Do you think it would be easier to solve the conflict if the Syrian people were to deal with the situation by themselves? In fact we now have so many players and so many negotiators, is that getting in the way of solving the situation or is it helpful?
Staffan de Mistura: It is clear. We are stating it and the Syrian people are asking for it that ultimately the solution for this conflict needs to be found by the Syrian people. They are very proud people, very strong-minded people – [this is] all their history. To help them to reach that… in fact the goal of the UN mediator is to facilitate the environment so that the people can talk to each other, Syrian people.
Now that does not mean also that countries who have an influence, who have been involved, engaged with the government or with the opposition should not be helping in facilitating this. That is why I think the Moscow meeting has been very useful. And I'm looking forward to seeing Moscow-2 too, because it helps in engaging Syrians – among [them] the Syrian people, the opposition and even the government. They need to find a Syrian solution.
EXCLUSIVE: #UN Special Envoy for #Syria Staffan de Mistura on #ISIShttps://t.co/BbsjnFVczL

— RT (@RT_com) March 6, 2015
RT:May I ask about the involvement of weapons being provided from outside to both sides. How does this affect the conflict?
SM: The Secretary General has been saying many times that by bringing weapons inside Syria, or anywhere there is a conflict, you are putting oil on fire. And therefore the hope is that this will not be...happening. And I think, the Secretary General has been clear about it.
RT:For you what do you think will be the next step in solving this crisis, realistically?
SM: The first thing that needs to be happening next is reducing the violence. In every roadmap, every peace plan that had been prepared under my predecessors – and there was real hard work behind it, starting with the Geneva Communique, because the Russian Federation was involved was involved in it too, and actively so – what was the first step? Reducing the violence. What they called ceasefires, we called freezes. And then the political dialogue, which is one of the things that Moscow-1 has been favoring by trying to prepare the ground.
RT:As a key negotiator, working with all of the parties involved, would it be fair to say that when the crisis started we saw a lot of black and white moods – bad guys, good guys? Now did we get to hopefully a little bit more of a gray area, where people are beginning to see that it is not going to get solved, in terms of international involvement, if people continue to be as critical of the opposite side?
#EbruNews: Syria conflict: Fighting continues across Syria pic.twitter.com/gZp4NBkQgr

— EBRU AFRICA NEWS (@ebruafricanews) March 5, 2015
SM: Every conflict needs to start with some type of discussion, among the Syrian people in this particular case. We have a new factor which is called Daesh/ISIS. And I'm sure I believe that this is certainly increasing the urgency of addressing the conflict in Syria. Daesh has been taking advantage of the fact that there is a weak environment in Syria and a conflict which has been going on for the last four years.
RT:Earlier someone asked you a question about how the ISIS factor "plays out in the hands of Assad". Do you think that's even a legitimate question in this situation considering the major terror that's basically affecting pretty much all of the world at this point?
Winning the Internet war is key in #IS fight: experts http://t.co/empF0edTLzpic.twitter.com/cV97COzLZ5

— ☭rapidnewstweets☠ (@juergen_p) February 20, 2015
SM: Daesh/ISIS is a major concern of everyone from Russia to US, from Iran to Saudi Arabia, from Turkey to Jordan. And now Europe. So if one wants to address properly the space which Daesh has filled in, one of the clear formulas is to try to address in a peaceful way the political process in Syria. In other words, if Syrian conflict would end tomorrow, it would by far easier to address the issue of Daesh.
RT:Is there a type of scenario that the Syrian conflict can end in the short term?
SM: Well you see I work for the UN. I've been in the UN for 43 years, and have been involved in 21 conflicts so far: from Afghanistan to Iraq, to Somalia, to Lebanon, to Bosnia and so on. And I learned that you must have one determination in protecting the people who are affected by the conflict. Second, push for any opportunistic opportunity for getting people around the table. And suddenly, you never know! It could be tomorrow. It could suddenly. The entry point takes place and you can actually have a discussion. Look at Lebanon. It was an endless conflict. Then suddenly there was enough critical mass for the possibility of the Taif Agreement. I hope that is the case now for Syria.
You can share this story on social media: