Brazilian rainforest now mapped on Google Street View zipwire cams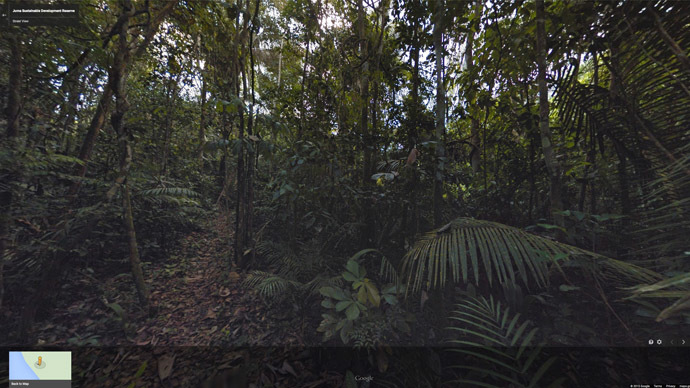 Google has teamed up with the Amazonas Sustainable Foundation (FAS) and has fitted one of its Street View cameras to capture 360-degree images of the canopy of trees and other plant life in the rainforest.
FAS came up with the idea of using zip lines and then contacted Google to use their advanced Trekker camera, which the internet giant uses for its Street View cameras.
The Trekker camera is round, weighs 18kg (40lb), has 15 lenses and takes photos every 2.5 seconds.
Google lent the camera to FAS through its loan program, which makes the camera available for charities and other non-profit organizations.
"The big challenge was finding where to put the zipline. This wasn't an eco-tourism location where they had these sites already chosen and set up. They brought all their equipment by boat to the location and hiked several kilometers in to find this tree," Karin Tuxen-Bettman, program manager for Google Earth who worked with FAS on the project, wrote on her blog post.
Google has also teamed up with FAS to photograph the Rio Negro Reserve and other protected areas using a Street View Trike.
READ MORE: Google 'street view' maps coral reefs off Florida
Google first visited the Amazon in 2010, when it took 12 Trekkers on boats and sailed them down the Rio Aripuana and Rio Madeira rivers.
"Most people won't go to the rainforest in their lifetimes. We also hope environmentalists will use it as a tool to go and see what's there," Google spokesman Laurian Clemence told the BBC.
In 2009, Dr. Julian Bayliss used Google maps to discover a previously hidden rainforest in northern Mozambique, where his team found previously undiscovered species of plants and wildlife.
Google Street View cameras have also been sent to some of the world's greatest attractions including the Izuazu Falls, the Grand Canyon and the coral reefs of Australia. Earlier this year the Northern Lights were added.
The Google Art project has also sent cameras into art galleries to photograph the world's greatest masterpieces.
READ MORE: Google fined $2,000 for capturing Canadian's breasts on Street View
But Google Street View has drawn criticism from privacy watchdogs after its cars collected emails, photographs and other personal data from open Wi-Fi networks. Google insisted that "human error" had stopped it from deleting the data.