​Catalonia prepares to set up own foreign missions, tax system amid independence drive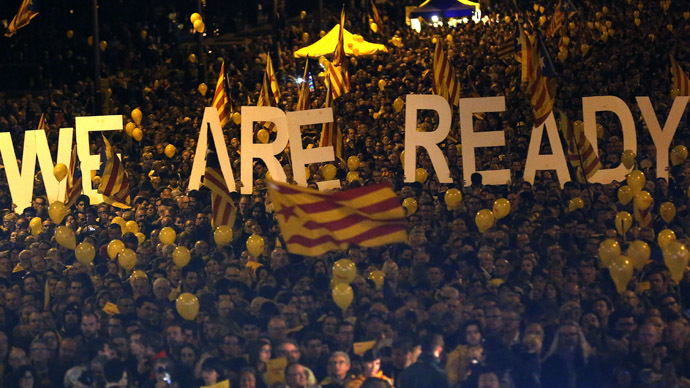 Catalonia is preparing its own tax system, and creating a network of foreign missions as it prepares for a snap regional vote on independence. Recently Spain's top court ruled that the region's symbolic referendum vote in November was unconstitutional.
Nationalist leaders in the northeastern region have urged a snap local vote on the issue of independence on September 27, AFP reported.
Catalan president Artur Mas and his government are reportedly working on tax, diplomacy, and social security restructuring in case Catalonia becomes an independent state.
The focus is on taxation as the Catalan authorities now collect only 5 percent of the taxes raised in the region.
Last November, Catalan president Artur Mas organized a symbolic vote on independence, with 80 percent voting in favor. However, the turnout was only 40 percent.
READ MORE:Catalonia to open up to 50 'embassies' around the world in 'a few years'
Catalonia has 7.5 million residents (16 percent of Spain's population), and represents some 20 percent of the country's GDP. Alone, the region could collect 100 billion euro in taxes yearly, much more than Catalonia would need if it becomes independent, said Joan Iglesias, a former Spanish tax inspector, who is now behind the Catalan tax reform.
"Everyone knows that Catalonia would be viable economically. It is the most economically productive territory in Spain," Iglesias told AFP.
Apart from the tax reform, Catalonia would need to establish its own central bank, upgrade computer systems and employ more civil servants.
Also, the region says it needs to open more foreign offices. Currently, Catalonia is represented in the UK, France, Germany, the US, Belgium and has recently set up missions in Austria and Italy.
READ MORE: Catalonia's flag burned as 40,000 march for Spanish unity in Barcelona
In February, Mas set up a commission responsible for carrying out the tasks essential for an independent state. Plus, he ordered a study into the steps Catalonia needs to take to make sure the services like telecommunications would function in case of secession.
However, "work is advancing too slowly," Catalan lawmaker with the separatist Esquerra Republicana de Catalunya (ERC) party, Lluis Salvador, told AFP.
"We need to streamline our efforts so we arrive at the elections in September at a much more advanced state."
READ MORE: 'Final instrument': Catalan leader urges early independence election
There are those who disagree with the efforts with the Catalan organization responsible for ensuring Catalan laws are constitutional – the Council for Statutory Guarantees – saying that the regional authorities don't have the right to create "a parallel state."
In the elections, separatist Catalan parties face opposition from new anti-austerity party Podemos, which is not supporting the region's independence.
"We don't want anybody to leave Spain," Juan Carlos Monedero, a Podemos founder and executive committee member, said in an interview in December. "But the guarantee against a breakup of Spain is to give the different regions with their own distinct identity the right to choose. That way they stay in the federation because they want to, not because you force them."
European officials have warned Catalonia that it would have to leave the EU if it becomes independent. Earlier Scotland faced the same warning.