Venezuela imposes mandatory visas for all US citizens, bans for Bush & Cheney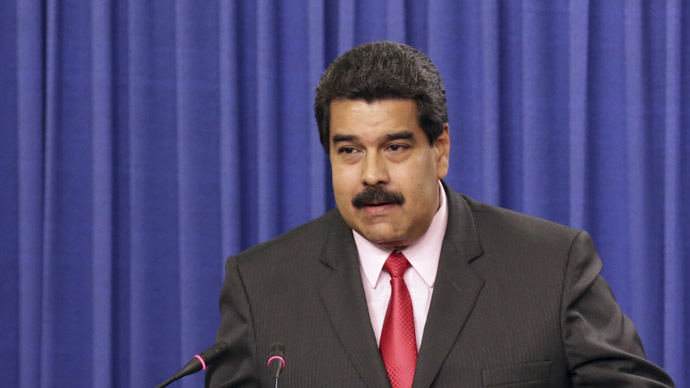 Venezuelan President Nicolas Maduro announced a new mandatory visa requirement for all Americans visiting the country. The leader also called to review and downsize the number of US embassy staff in Caracas.
"In order to protect our country...I have decided to implement a system of compulsory visas for all Americans entering Venezuela," Maduro said in a speech on Saturday.
This is a reciprocal measure and now all Americans will have to pay tourist visa fees equal to what "a Venezuelan pays to travel to the US."
When announcing the new regulations for US tourists, Maduro said that Venezuela apprehended American citizens who were involved in "espionage activities."
"We have captured some US citizens in undercover activities, espionage, trying to win over people in towns along the Venezuelan coast," he said.
A group of four missionaries had been called in for questioning after participating in a medical assistance campaign in the coastal town of Ocumare de la Costa, the head of a Venezuelan evangelical organization said on Friday.
The four had reportedly left the country for Aruba after having been questioned.
Maduro also said that Venezuela captured a US pilot of Latin American descent in the western state of Tachira, who he claims was also conducting "covert" espionage activities.
At the same time, Maduro asked to review and reduce the number of US diplomatic staff in the country, after allegations of "conspiratorial meetings" against Venezuela.
"I've thought about it…First I have ordered the Foreign Ministry...to proceed immediately, to review...[and] limit the number of officials at the [US] embassy in Venezuela," Maduro said. "They have 100 staff, we have 17."
He added that former US President George W. Bush, former Vice President Dick Cheney, and Republican Congress members Ileana Ros-Lehtinen, Robert Menendez, and Marco Rubio will be denied visas into the country, labeling Bush and Cheney as "terrorists."
The travel bans, Maduro said, target those who "violated human rights and bombed villages as in Iraq, Syria and Vietnam."
From now on, US diplomats will be required to seek approval from the Foreign Ministry for meetings they conduct in Venezuela.
READ MORE: Maduro accuses Joe Biden of 'bloody coup' in Venezuela
The new law is designed to help "control" US interference, the president stressed.
Tense relations between Venezuela and the US reached a new level of intensity earlier in February, when Maduro accused America of being behind the attempted coup in Venezuela.
"The northern imperial power has entered a dangerous phase of desperation, going to talk to the continent's governments to announce the overthrow of my government. And I accuse Vice President Joe Biden of this," Maduro said.
The allegations were made amid widespread protests in the country in the first half of 2014, triggered by high levels of inflation, mass power cuts, and a lack of basic goods. Demonstrators demanded Maduro's resignation amid an economic crisis that was hitting the food sector the most.
Later in February, Venezuela's leader announced that the country successfully defeated an alleged US-sponsored coup, adding that a plot involved an attack on the presidential palace or another top target, Maduro said.
READ MORE:Venezuela plunges into recession with record inflation
Prior to that, Maduro claimed at the end of 2014 that there were "recordings" disclosing the US plan to bribe and corrupt Venezuelan authorities.
Washington and Caracas have been at odds with each other since Venezuela's iconic former leader Hugo Chavez came to power in 2000. Previously, the US had been accused of trying to undermine the Venezuelan government in 2002, when a coup saw Chavez ousted from office for 47 hours before order was restored.
You can share this story on social media: