​Venezuela plunges into recession with record inflation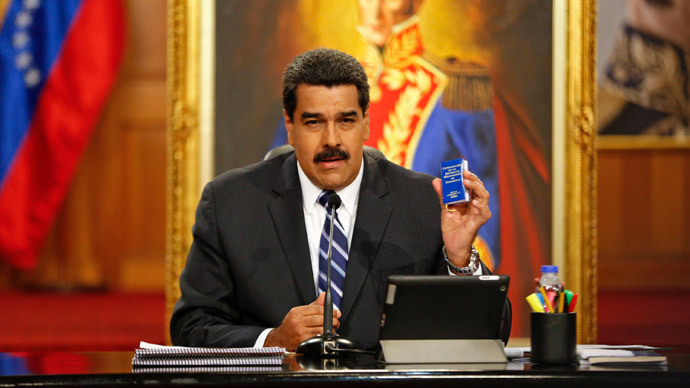 Venezuela's economy has entered a recession with the economy contracting 2.3 percent in the third quarter and the highest inflation in the Americas at 63.6 percent.
Venezuela confirmed on Tuesday it was in recession as the country's GDP has been falling for 3 consecutive quarters with a drop of 4.8 percent in the first quarter and 4.9 percent in the second. The 63.6 percent inflation is a record in North and South America, and is among the world's highest.
President Nicolas Maduro believes the Venezuelan economy's plunge is a result of global political instability and falling oil prices.
READ MORE: Venezuela 'seizing' diamonds, precious metals to boost reserves
He also accused the US of "flooding" the oil market as part of an economic war with Russia and Venezuela.
"Do you know there is an oil war?" Maduro said at a meetingwith the leaders of state-owned corporations. "This war is aimed at destroying Russia. This is also a strategically planned war against Venezuela, it seeks to destroy our revolution and trigger economic collapse."
Venezuela went through a recession in 2009-2010, which was also triggered by low oil prices.
Contracts for Venezuelan oil are currently being traded at $48 a barrel, with $56 for Brent crude at 17:30 MSK Wednesday. In the middle of 2014 the price for Venezuelan oil futures was around $96.
Venezuela has the world's largest proven oil reserves, thus its economy is highly dependent on the oil trade. Oil makes up 90 percent of the country's exports. In the third quarter they fell by 14.2 percent to $19 billion.
You can share this story on social media: