Venezuela 'seizing' diamonds, precious metals to boost reserves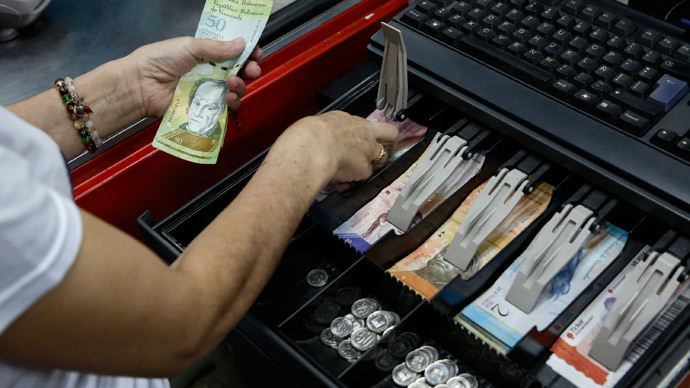 The Central Bank of Venezuela is adding diamonds, gold and other precious stones and metals to its foreign reserves which have fallen to an 11-year low.
The bank said in a statement issued Thursday it intends to use a broader range of assets to increase international reserves, it will also include freely convertible foreign currencies.
Venezuela may also use Chinese loans in yuan to bolster its international reserves. Finance Minister Rodolfo Marco traveled this week to China to discuss potential deals.
The country's reserves are now at about $21.7 billion, after falling 28 percent in the last three years, that's despite a previous $4 billion loan from China.
The decision is more of an accounting ploy taken to reallocate billions of dollars in off-budget funds into central bank reserves, Hernan Yellati, analyst at Banctrust & Co told Bloomberg.
"The government wants to seize those off-budget assets and count them as part of the international reserves," he said. "The impact of the measure will be limited as this is just an accounting measure, not fresh money."
Venezuela is going through economic turmoil with the world's highest inflation, and this is an attempt by President Nicolas Maduro to stem the tide.
Venezuela's economy is expected to contract by 3 percent this year. Consumer prices in the country rose 63.4 percent in August, the fastest in the world, and it is facing deficits and shortages of imported food and consumer goods.
With the world's largest crude reserves, Venezuela's export earnings are 95 percent dependent on oil. A fall in oil prices has exacerbated the country's economic problems.
The price for Brent crude Friday was around $69 a barrel at 3PM MSK
After the OPEC decision was made last week Venezuelan bonds fell to a five-year low as traders forecast a higher chance of default.
READ MORE: Oil slumps 4% as OPEC leaves output unchanged
"Every $1 drop in oil is around $770 million of lost revenue, so their ability to pay has taken a big hit," Kevin Daly, money manager at Aberdeen Asset Management, told Bloomberg. "The market is already pricing in a high probability of default next year."
You can share this story on social media: