Maduro accuses Joe Biden of 'bloody coup' in Venezuela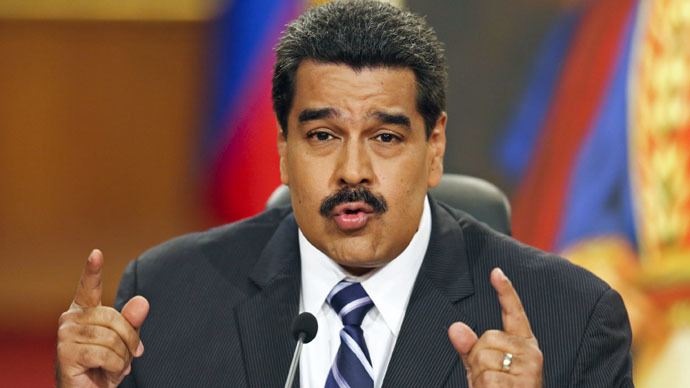 The US is behind the attempted coup in Venezuela – that is the accusation President Nicolas Maduro has leveled amid widespread protests back home. And it's none other than Vice-president Joe Biden who's behind the entire operation, Maduro alleges.
This is the first time a direct accusation of this gravity was made in front of thousands of cheering spectators and the world at large, despite an earlier Friday statement, when Maduro struck out at several US federal agencies for allegedly plotting against Venezuela.
"The northern imperial power has entered a dangerous phase of desperation, going to talk to the continent's governments to announce the overthrow of my government. And I accuse Vice-president Joe Biden of this," the head of state said, addressing the people at the 198th anniversary of the birth of a Venezuelan hero general Zamora in Cua, Miranda state.
#Venezuela | Presidente @NicolasMaduro conmemoró junto al pueblo los 198 años del nacimiento de Ezequiel Zamora. pic.twitter.com/fhJhwhGygi

— Cancillería Vzla (@vencancilleria) February 2, 2015
He also questioned US President Barack Obama publically, whether he was "aware of these plans to promote violence and a coup in Venezuela" and "appealed to his consciousness."
"There are US diplomats in Venezuela contracting military officials to betray their country, looking to influence socialist political leaders, public opinion leaders and entrepreneurs to provoke a coup," the head of state went on.
READ MORE: Venezuela accuses Kerry of murder and inciting violence
The President addressed the nation on Sunday in order to strengthen its resolve in times of what he called "a bloody coup", as demonstrators flooded the streets demanding his resignation amid an economic crisis that is hitting the food sector first, just as the voices of thousands of others could be heard cheering him on, as they smiled and waved flags.
But according to Maduro, this is no ordinary crisis. "I appeal to the people and the patriots among the officials who are on high alert, as a bloody coup is underway in Venezuela."
"The people must be prepared to rescue their democracy, the Constitution and their revolution" at times like these, the head of state warned.
Only a few days prior to the occasion, the leader had appealed to his fellow countrymen to burn their US visas to send a message to the "imperialist Yankees", but the accusations of a coup had before only dealt with members of the political opposition at home and their being influenced by other unfriendlies in the region.
READ MORE: The US is behind the current drop in oil prices – Bolivia's president
The New York Times pointed out on January 2 that an unnamed official had said Maduro was interested in improving his relationship with Biden, and the Venezuelan leader said after the meet that he "told Vice-president Biden, and have said it 1,000 times in public and in private, we want respectful relations, nothing more."
But as the price of oil – which accounts for 95 percent of its export earnings – begins to plunge, so do Maduro's public ratings, which are now at little more than 20 percent, according to local media.
READ MORE: Venezuela plunges into recession with record inflation
Incipient US-supported coup attempt in #Venezuela is following the 1973 Chile playbook point by point. pic.twitter.com/nVlJQuy9Gw

— Club des Cordeliers (@cordeliers) February 2, 2015
With the situation changing, Maduro said that it's difficult to imagine, despite earlier promises, how to maintain diplomatic relations with the US, in light of its constant attempts to subvert the Venezuelan leadership and sink the country into a crisis.
"They [the opposition] say that the revolution is over, that the people no longer support it. They say they will overthrow the people and the revolutionary government that I chair. But I say to the conspirators – stay out of Venezuela, let us live in peace."
READ MORE: Venezuela adds new currency market to save ailing economy
Washington and Caracas have been at odds regularly after iconic former leader Hugo Chavez had come to power in 2000. The US had already been accused of trying to undermine the Venezuelan government in 2002, when a coup saw Chavez ousted from office for 47 hours, before order was restored.
You can share this story on social media: