​S. African spooks 'spied on own govt' to glean info on satellite program with Russia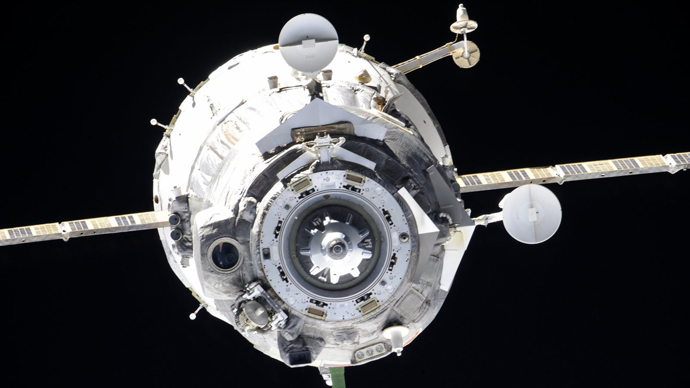 South Africa's intelligence agency unearthed information about a covert satellite surveillance program between Pretoria and Moscow with the help of a mole with "direct access to the Russian government," leaked cables reveal.
The $100 million (£65 million) surveillance satellite system, codenamed Project Condor, was launched into orbit by Russia in December 2014. Initially shrouded in secrecy, with Moscow refusing to reveal the identity of its client, details have since emerged of Pretoria's involvement in the program with Moscow, according to leaked spy cables obtained by Al-Jazeera and shared with The Guardian.
READ MORE: Spy leaks: MI6 tried to recruit N. Korean asset with S. African help
The leaked intelligence document, dated August 28, 2012, relies on information provided by an agent, codenamed "Agent Africanist," whose involvement in the program gave South Africa's intelligence agency top secret details of the satellite surveillance system, which provides "coverage of the entire African continent."

Project Condor would give South Africa the ability to "conduct its own aerial surveillance in Africa, potentially right up to Israel for strategic military purposes."

The briefing from Agent Africanist details changes with regards to the degree of cooperation between South Africa and Russia's foreign intelligence service, the SVR, and its deployments in the country.

"Project Condor is regarded as a significant part of the envisaged strategic cooperation" between Moscow and Pretoria, the leaked document claims. "Currently, there are 30 Russian technicians working in South Africa in close cooperation with South African authorities on the project."

To complement Project Condor, the intelligence document mentioned another satellite system being developed "simultaneously" by Moscow. "The aim is to eventually integrate the two satellite systems and capabilities providing wider strategic coverage with obvious benefits for both countries," the intelligence document said.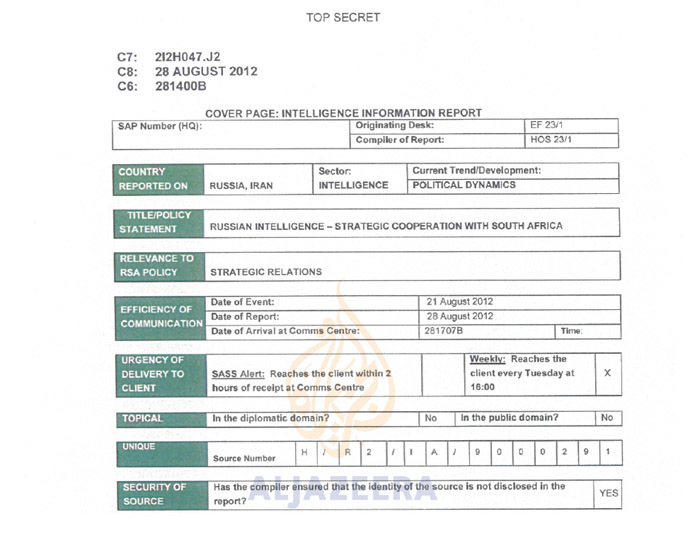 It was also reported that the South African government was "seriously deliberating" offering an IPO (initial public offering) in the state-owned arms manufacturer Denel.

"This has attracted the interest of the Russian arms industry," Agent Africanist says. In the event of such a sale, "Russia will strongly consider entering into a strategic arrangement with Denel, providing technical support, knowhow and technology transfer."

Such a joint enterprise between Russia and South Africa would be "geared specifically towards the African market, taking on the likes of France and the US," the document said.
READ MORE: Netanyahu's claims on Iran nuclear program contradicted Mossad findings – leaked docs
Meanwhile, in a separate cache of secret documents, entitled "Security Vulnerabilities in Government" (2009), obtained by Al-Jazeera, South Africa emerges as a hotbed of espionage.

The leaked documents provide the identities of 78 foreign spies operating in Pretoria, along with their photographs, addresses and mobile phone numbers – as well as 65 foreign agents identified as working undercover. Among the countries performing espionage work in South Africa are the US, India and Britain.

One of the more shocking revelations from the leaked intelligence documents appears to undermine Israeli Prime Minister Benjamin Netanyahu's assertion before the UN General Assembly in September 2012 that Iran was readying to complete its "plans to build a nuclear weapon."

An October 2012 memo from Israeli intelligence agency Mossad appears to contradict that claim. While conceding that Iran was "working to close gaps in areas that appear legitimate, such as enrichment reactors, which will reduce the time required to produce weapons from the time the instruction is actually given," it also stated that Tehran was "not performing the activity necessary to produce weapons."

Another leaked document suggests that despite the US government's ban on contact with the Palestinian Islamist movement, the CIA attempted to gain access to Hamas through a South African proxy in 2012.

US and South African intelligence agents met in East Jerusalem during a period of hostilities between Hamas and Israeli forces.

The leaked cables describe US forces as "desperate to make inroads into Hamas in Gaza and possibly would like SSA [South African State Security Agency] to assist them in gaining access."